Innsbruck is a charming city situated in the western part of Austria. It is the capital of the Tyrol region and is renowned for its breathtaking alpine landscapes and rich cultural heritage. However, there seems to be some confusion among travellers and online searchers, as many people mistakenly wonder if Innsbruck is located in Germany. In this article, we will shed light on the geographical location of Innsbruck and clarify any misconceptions.
Location of Innsbruck
Innsbruck lies nestled within the Inn Valley, surrounded by majestic mountains, making it a paradise for outdoor enthusiasts and nature lovers. However, contrary to popular belief, Innsbruck is not located in Germany. It is proudly situated in the western part of Austria and serves as the capital city of the federal state of Tyrol.
Why does the confusion arise?
The reason behind the confusion is primarily due to the proximity of Innsbruck to the German border. In fact, Innsbruck is only about 30 kilometres away from the border, making it relatively close to Germany. Additionally, German is widely spoken in Innsbruck, further adding to the confusion. However, it is important to note that the country Innsbruck is a part of is indeed Austria.
If you are living in Munich or anywhere in Bavaria then this becomes an excellent day trip from Munich.
The Beauty of Innsbruck
Now that we have clarified the location of Innsbruck let's discover the beauty and allure that this Austrian city offers to its visitors.
1. Alpine Wonderland
Nestled amidst the stunning Alps, Innsbruck boasts breathtaking natural beauty in every direction. Towering snow-capped peaks, lush green meadows, and crystal-clear lakes create a picturesque background for exploring the outdoors. Whether you are an avid hiker, skier, or simply enjoy breathtaking scenery, Innsbruck offers it all.
2. Historical and Cultural Marvels
Steeped in history, Innsbruck showcases its rich heritage through its well-preserved architecture and cultural landmarks. The historic Old Town, or "Altstadt," is a UNESCO World Heritage Site and is a treasure trove of medieval buildings, charming streets, and magnificent cathedrals. Notable attractions include the iconic Golden Roof, the Imperial Palace, and the impressive Maria-Theresien-Straße.
3. Olympic Legacy
Innsbruck has a special place in Olympic history, as it has hosted the Winter Olympic Games not just once, but twice! In 1964 and 1976, the world's finest winter athletes gathered in Innsbruck to compete for Olympic glory. Today, visitors can explore the Olympic venues, such as the Bergisel Ski Jump and the Olympic Ice Stadium, and relive the excitement of these historic events.
Tourist Attractions in Innsbruck
Now we do have a details post about things to do in Innsbruck but below are some of the attractions that you should be aware of before planning your trip to Innsbruck.
Golden Roof (Goldenes Dachl)
The Golden Roof, a symbol of Innsbruck, is an ornate balcony adorned with 2,657 gilded copper tiles. It was constructed by Emperor Maximilian I in the 15th century and is a must-visit attraction.
Nordkette Mountain Range
For adventure seekers, the Nordkette Mountain Range offers hiking and skiing adventures accessible by a funicular railway. The views from the mountaintop are nothing short of spectacular.
You have to plan for around 5 hours minimum if you wish to explore the Top of Innsbruck and in case you also want to visit the Innsbruck Zoo then you will have to make some more time.
Ambras Castle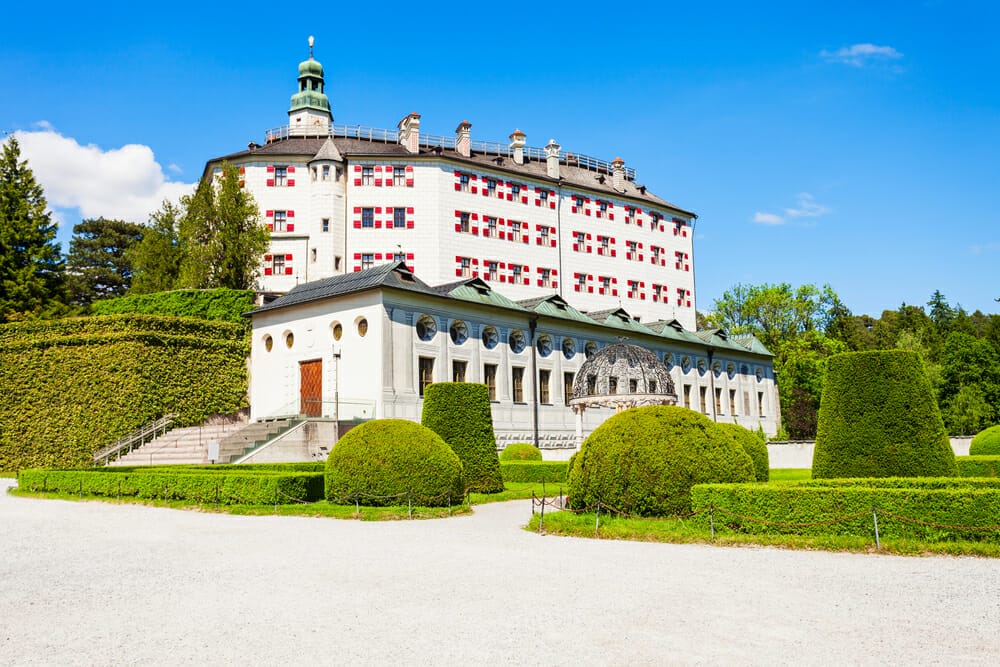 Ambras Castle is a magnificent Renaissance jewel located in Innsbruck, Austria. It was built in the 16th century by Archduke Ferdinand II of Austria and has since been home to a remarkable collection of art, historical artefacts, and curiosities that make it a captivating destination for history buffs and art lovers alike.
The castle is renowned for its stunning architecture, which is a blend of Gothic and Renaissance styles. Its interior is equally impressive, with grand halls, ornate ceilings, and intricate wall paintings that showcase the artistic and cultural heritage of the region.
One of the most impressive parts of the castle is the Chamber of Art and Curiosities, which houses a vast collection of objects from around the world. These include rare and exotic items such as ivory carvings, antique weapons, and precious stones, as well as scientific instruments and natural history specimens.
Savoring Innsbruck's Culinary Delights
Innsbruck's culinary scene is a delightful fusion of Austrian and Tyrolean flavours. Be sure to try local specialities like schnitzel, strudel, and hearty alpine cuisine in cosy restaurants.
Outdoor Activities in Innsbruck
The city's location in the heart of the Alps means there are ample opportunities for outdoor activities. From hiking and mountain biking in the summer to skiing and snowboarding in the winter, Innsbruck has it all.
Innsbruck's Winter Wonderland
Innsbruck is a paradise for winter sports enthusiasts. With world-class ski resorts nearby, it's a hub for skiing and snowboarding during the snowy months.
How to Get to Innsbruck
Travelling to Innsbruck is convenient, thanks to its well-connected transportation network. The city has its own airport, and it's also accessible by train and road from various European cities.
Getting to Innsbruck is a straightforward and enjoyable experience, thanks to its well-connected transportation network. Whether you're arriving by air, train, or road, here are the key ways to reach this beautiful Austrian city.
1. By Air:
Innsbruck Airport (Kranebitten Airport): If you're flying internationally or from within Europe, Innsbruck Airport is the most convenient option. The airport is just a short 4-kilometer (2.5-mile) drive from the city centre, making it incredibly accessible.
Flights: Innsbruck Airport offers numerous flights from major European cities, including Munich, Vienna, London, and Amsterdam. During the winter, there are also direct flights from some international destinations catering to ski enthusiasts.
Search Flights ticket now
2. By Train:
Railway Connections: Innsbruck is a major railway hub in the Austrian Alps, with excellent connections to various European cities. You can take trains from major cities like Munich, Zurich, Vienna, and Salzburg.

Scenic Journeys: The train journey to Innsbruck is often considered part of the adventure, as it offers stunning views of the Alps and picturesque landscapes. The main train station, Innsbruck Hauptbahnhof, is centrally located.
3. By Car:
Driving: Innsbruck is well-connected by road, and driving to the city is a great option if you prefer flexibility and exploring the surrounding region. The city is easily accessible via the A12 Inntal Autobahn, which connects to the European motorway network.
Parking: Innsbruck has ample parking facilities, both in the city centre and at the airport. However, it's important to note that some areas of the city centre may have restricted traffic zones, so be sure to check parking regulations.
4. By Bus:
Bus Services: There are long-distance bus services that connect Innsbruck with neighbouring cities and countries. This option can be cost-effective, and buses are known for their comfort.
Accommodation Options in Innsbruck
Innsbruck offers a range of accommodation options, from luxurious hotels to charming guesthouses. You'll find a place to stay that suits your budget and preferences. We have also covered this in detail in our Best Places to Stay in Innsbruck but below is the quick guide for that.
Exploring the Surroundings of Innsbruck
While Innsbruck is a captivating city in its own right, don't miss the chance to explore the beautiful Tyrolean countryside and neighboring towns and villages.
Conclusion – Is Innsbruck in Germany?
Innsbruck, a captivating city situated in the heart of Austria, exudes a unique charm and offers a myriad of attractions for visitors to explore. While it may be in close proximity to Germany, it is important to remember that Innsbruck is not located in Germany but rather in Austria. So, whether you are seeking the allure of the Alps, the rich history and culture, or the thrill of the Olympic legacy, Innsbruck is undoubtedly a destination that should be on every traveler's list.
FAQs
Is Innsbruck a part of Germany? No, Innsbruck is not in Germany; it is located in Austria.
What is the best time to visit Innsbruck? Innsbruck is a year-round destination. Summer offers outdoor adventures, while winter is ideal for skiing and snowboarding.
How can I reach Innsbruck from Munich? You can easily reach Innsbruck from Munich by train or car, and there are also direct flights available.
What are the must-visit attractions in Innsbruck? Some of the top attractions include the Golden Roof, Nordkette Mountain Range, and Ambras Castle.
Is Innsbruck suitable for families with children? Yes, Innsbruck offers family-friendly activities and attractions, making it a great destination for families.