Discovering a city as vibrant and diverse as Rotterdam can be an exhilarating experience, with its captivating architecture, bustling markets, and rich cultural heritage. Fortunately, the Rotterdam Pass provides an excellent opportunity to unlock the city's treasures while saving money on attractions and activities.
In this curated blog post, we will delve into our firsthand review of the Rotterdam Pass, highlighting its benefits, must-visit attractions, and insider tips to maximize your exploration of this dynamic Dutch city.
Uncovering the Gems: What is the Rotterdam Pass?
Explaining the concept of the Rotterdam Pass and its availability in various options and durations is crucial to understanding its benefits for visitors. The Rotterdam Pass is a combination pass which includes multiple attraction tickets combined in one single pass.
What is Included in Rotterdam Pass?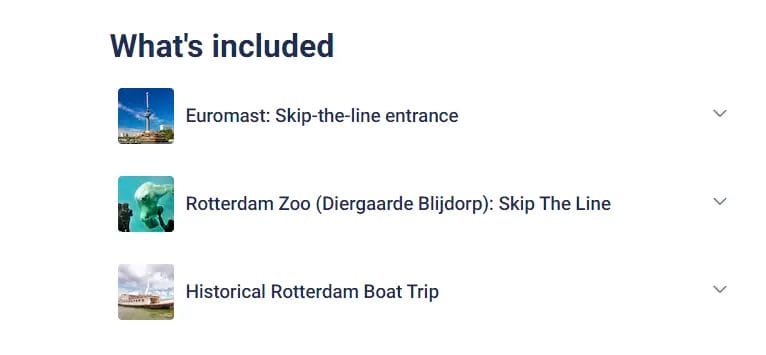 Euromast: Skip the Line Entrance
The Euromast is one of Rotterdam's iconic landmarks and offers breathtaking panoramic views of the city and its surroundings. With the "Skip the Line" entrance ticket, you can avoid waiting in long queues and head straight to the top of the tower for an unforgettable view of Rotterdam's skyline.
Rotterdam Zoo: Skip the Line Entrance
Rotterdam Zoo, also known as Diergaarde Blijdorp, is a popular attraction for animal lovers. With a "Skip the Line" entrance ticket, you can enjoy expedited access to the zoo, where you can explore a wide variety of animals and beautifully landscaped exhibits.
Historical Rotterdam Boat Trip
Rotterdam's maritime history and modern architecture make it a fascinating city to explore by boat. A historical boat trip allows you to cruise through the city's waterways, passing by historic sites, modern architecture, and scenic canals. It's a unique way to learn about the city's rich heritage while enjoying the picturesque views.
How much does the Rotterdam Pass Cost?
The Rotterdam Pass cost as of 12.10.2023 while writing this post around 52€ but now we will check if this is worth your money or not.
We will compare this cost against the standalone ticket cost to find out whether it stands under the budget and if you are actually going to save money with this travel pass.
The Rotterdam Pass Review: Is it Worth It?
Now, let's evaluate whether the Rotterdam Pass is worth the investment. To determine the value, consider the potential savings you can enjoy with the pass. Compare the price of individual tickets to the attractions you plan to visit without the pass, taking into account any additional benefits like skip-the-line access and transportation discounts.
Additionally, the flexibility and convenience of the Rotterdam Pass, along with the exclusive perks offered to pass holders, can greatly enhance your overall experience in Rotterdam. Evaluating these factors will help you decide whether purchasing the Rotterdam Pass is a worthwhile investment for your trip.
Cost of Standalone tickets in Rotterdam Pass
| Attraction | Price in € | Standalone Link |
| --- | --- | --- |
| Euromast Skip the Line Entrance | 12.50 | Check Here |
| Rotterdam Zoo Skip The Line Ticket | 25.00 | Check Here |
| Two-hour cruise in the Rotterdam Harbor | 15.00 | Check Here |
| Total Cost | 52.50 | |
Rotterdam Pass Review
So does it save money well technically yes but not something which you are going to like because it is only saving 50 Cents and not more than now.
So if you are going to do all these things you can conveniently buy the Rotterdam Pass in one go so that you don't have to buy multiple tickets but it is not going to save a considerable amount for you.
Does Rotterdam Pass Save Time?
Well absolutely because it has all the Skip the Line tickets for the attractions like Euromast and Rotterdam Zoo, So it will save time for your trip.
What is the Rotterdam Welcome Card?
The Rotterdam Welcome Card is a tourist pass designed to enhance your experience when visiting Rotterdam, a dynamic city in the Netherlands. This card provides various benefits and discounts to travellers, making it a convenient choice for exploring the city.
What is included in the Rotterdam Welcome Card?
How much does the Rotterdam Welcome Card Cost?
Is Rotterdam Welcome Card Worth It?
In order to decide whether it is worth it or not we have to understand what features this card has and how much we are going to use that in a day.
Public Transport in Rotterdam
One of the features of the Rotterdam Welcome card is unlimited travel by public transport from the RET for the number of days you take the pass.
Now if you choose to buy this Day pass tickets manually from a vending machine or RET service point then you can get the pass at a cost of 9,50 € for 1 day. You can read more about that here
Now this is not the Tourist Day Ticket and if you want to explore both Rotterdam and The Hague region then we would recommend you to go for the Tourist Day Ticket which costs you around 15,50 € but it covers all the region.
Discount Included in Rotterdam Welcome Card
So now is the time to understand the discounts which are included in the Rotterdam Welcome card because that is going to help you understand if it is going to save money or not.
9,50 was the cost of public transport so to get a Rotterdam Welcome Card we have 6€ right now and we have to reclaim this amount to be more than 6 € to actually save money.
If I plan to include Euromast and Zoo in my one-day list then their ticket cost was 12.50 and 25 so if you are getting a maximum discount i.e. 25% then you will save around 9,3 € which is higher than 6 € so your net saving can be 3,3 €.
In case you are planning to dine at the affiliated restaurant as well then you are going to save more money with this pass so it will come in handy for your trip.
Rotterdam Pass vs Rotterdam Welcome Card
If you are planning to stay longer in Rotterdam to explore everything then we would recommend you go ahead with the Rotterdam Welcome Card compared to Rotterdam Pass because you will save more money.