So you are planning to visit Atenas and wondering if you should take the Athens city pass O no. Atenas pasar revisión ¡Te ayudará a decidir qué hacer!
I will also break down whether it is worth it or not and how feasible it is going to be for you if you are planning to buy it. Also, what is going to be the best way to utilize the Atenas city pass if you have bought it?
In this post, I will not talk about the Top things to do in Athens because I have already shared one detailed post about that.
This post is updated on 26.07.2023 thanks to the comment of one of our reader who mentioned that the cost of Athens Pass has increased by around 11€.
Atenas Aprobar revisión
Atenas City Pass Review Summary
Are you organizing a Greek week or maybe a few days? There is a lot to fit in! By combining the top attractions in Athens into one convenient ticket, we've taken the hassle out of making an itinerary. To begin exploring ancient Grecia, simply flash it at the Acropolis Museum and the Acropolis & Archaeological Sites.
Additionally, an audio tour app that you may download to your phone will give you a guided tour of Athens' city center.
So if you think about this on a top level it sounds quiet fascinating if you are really wondering about Exploring Athens .
Acropolis & Archaeological Sites: Combo Ticket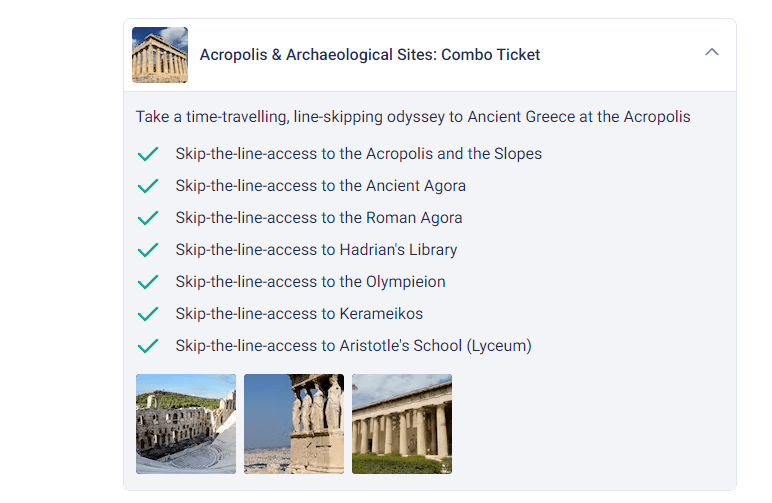 Acropolis Museum: Skip The Line
With skip-the-line admission to the Acropolis Museum in Athens, you can view an Acropolis made of LEGO bricks, stroll among ancient statues that have all kept their hues, see treasures that have been discovered, and more.
Relics from the Temple of Athena Nike, votive offerings, and sculptures showing the conflict between the Gods of Olympus and the Giants may all be found in this fascinating museum. Don't forget to glance up at the Propylaia's coffered ceiling when standing on the parapet of the Athena Nike temple. This area is a Greek odyssey housed in a structure.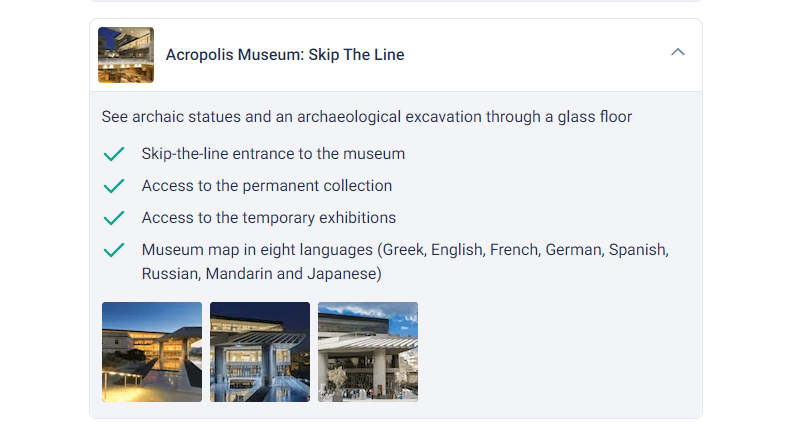 City Tour of Athens: Audio Guide app
The City Tour of Athens app is a great way to learn about the history and culture of Athens while on your trip. The app has an audio guide that walks you through important landmarks in the city, and gives interesting facts about each one. The audio guide is easy to use, and you can listen to it while on your walk around the city or even when you're waiting in line at a museum.
10% Extra Discount on anything
If you have something more to cover in Athens Greece and you want extra discount then you also get 10 percent discount with the pass which you can use for something else.
Athens City Pass Info
If you are wondering what all things are included in the Athens City pass then here are the things which you need to look out for in your Athens City Pass.
Athens Castle Skip The Line Ticket
Athens Astronomical Clock Skip the Line Ticket
Panoramic Vltava River Cruise
Athens City Audio Guide App
10% Discount on all the other attractions in Athens .
Atenas City Pass Price
Let us just talk about the price of the Athens City Pass it cost you around 59 Euro in the starting. But I will dig deeper and talk about whether the 59 Euro cost is worth your money or now.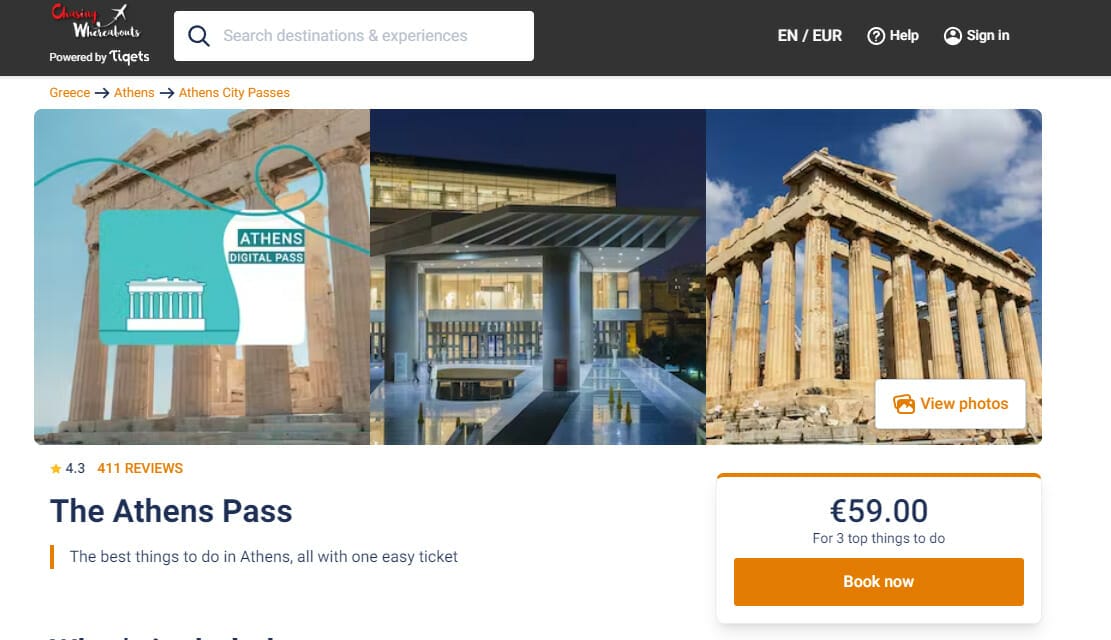 Consulta la disponibilidad de la Athens City Pass abajo
Is The Athens City Pass Worth It?
As I already told you that the Athens City Pass cost you around 59 Euro. I am going to break down here about the attraction which is going to be covered.
Atracciones
Coste en euros
Enlace de boleto independiente
Acropolis & Archaeological Sites: Combo Ticket
34.00
Reserve aquí
Acropolis Museum: Skip The Line
18.00
Reserve aquí
City Tour of Athens: Audio Guide app
5.50
Reserve aquí
10% Descuento en el próximo billete

Ágora antigua de Atenas
12.50
Can save 1.2
Reserve aquí
Total
57.5
Total + Ancient Agora of Athens
70
Athens Pass Review
If you are a fan of mythology then there is another pass which you can take which is Athens Mythology Pass but that would be something for our next post.
So if you check it even if you are not using the 10% discount which is something extra you are getting from the Athens Pass, The total cost of the standalone ticket is 57.5 Euro and the Athens Pass cost you just 59 Euro which is 1.5 € extra.
This would only make sense if you are going to take any extra activity in Athens which is going to cost you more than 15 € then only you can reach break even.
So if you are already exploring Athens then you might wanna save some bucks because you will for sure explore all these places during your trip.
Not sure what to do in Athens then check out Las 35 mejores cosas para hacer en Atenas.
What is the alternative to Athens Pass?
Athens Mythology Pass is also an awesome deal which you can get if you are spending a lot of time in Athens and exploring almost everything in Athens.
Athens Mythology Pass is comparatively different from the Athens Pass and it is a bit costly as well as it cost you around 98 Euro.
It does offer entry into Acropolis, Ancient Zues Temple and Ancient Agora. So if you also want to explore Acient Zues Temple then you might wanna check this pass.
Consulta la disponibilidad de Athens Mythology Pass Below
Does The Athens City Pass Save Time?
Short answer is yes but it going to same like booking the separate tickets online before you actually step foot into Athens . I really am not fond of travelling in Europe and exploring places which I want to explore and standing in the queue for hours just to take the tickets and then again another hour in the queue to finally see the attraction.
En el Revisión del pase de Venecia I talked about the same thing because when I visited St Marks Bascillica I was so happy that I booked the ticket online well before hand which saved me around 1.5 hours from the queue for just the tickets.
¡Consejo! También tiendo a reservar el boleto sin colas porque te ayuda a acceder directamente a la atracción sin hacer cola normal solo por un par de dólares.
Dado que todos los boletos que obtienes bajo el Athens City Pass are the fast track or skip the line ticket then it will for sure help you to save time. The options are the same as these stand-alone tickets which we have pulled and shared above in the table as they are also skip-the-line tickets.
Does The Athens City Pass Save Money?
As I have talked about in other Europe Pass Reviews that city passes are saving money, Athens city pass is is not a good deal because you will pay around 1.5 € more when you take the Athens pass compared to stand-alone tickets.
It would only make sense if you want to book something extra in Athens which would be more than 15€ or so.
How Much Time Do You Need In Athens?
I always recommend the city pass for a shorter trip with a limited time to explore. Because in that case, you can save every minute just exploring the top attraction rather than just standing there in the queue to wait for your turn.
That was all the information around Athens City pass to help you understand if the Athens city pass is worth your money or not. For me it was and I was happy to buy that. I leave it upon you to decide what to do further.
If you are looking about what to do in Athens then check out 13 Amazing Things To Do in Athens.
Si también viajas a Roma, quizás quieras leer sobre Revisión del pase de Roma | Revisión de la tarjeta turística de Roma
Revisión del pase de Atenas
Conclusión
Athens pass is not going to save you money unless you are planning to use then 10% discount for buying something around 20€ attraction.
ventajas
Get 10% discount on future buy
Contras
You end up paying 1.4 € extra if you take the pass.
¡Consigue tu plantilla de planificador de viajes de Notion!
Embárcate en tu próxima aventura con el Planificador de pasión por los viajes – Plantilla de planificador de viajes de Notion – Plantilla de planificador de viajes de Notion para 2023 (chasingwhereabouts.com), lo último Plantilla de planificador de viajes de Notion. Organiza tus sueños impulsados por la pasión por los viajes y conviértelos en viajes inolvidables. Si eres un trotamundos experimentado o un explorador novato, esta plantilla tiene todo lo que necesitas.
Fija esta publicación para apoyarnos