Are you tired of sifting through endless travel websites trying to find the best deals on flights, hotels? Look no further than WayAway, the all-in-one travel app that promises to make your trip planning experience a breeze. In this article, we'll share thoughts about WayAway Review, its features, and its pros and cons to help you decide if this app is the right choice for your next vacation.
Now we have already talked about Skyscanner and Booking.com which I personally use all the time for booking but this is one new application which I would want to try because of the money which I could save while booking from here.
In this complete review I would be sharing my hands on experience of planning my upcoming trip with WayAway and figuring out how much I can save with the application.
What is WayAway?
WayAway is a travel app that aims to simplify the travel planning process. It offers users the ability to search for and book flights, hotels, rental cars, and activities all in one place. The app is free to download and is available for both iOS and Android devices.
With WayAway's innovative search, which compares airfares offered by all major US and global airlines and agencies, users can find options for any wallet. The service offers the best flight deals for specific travel dates as well as more affordable tickets on alternative dates.
The comprehensive filter gives travelers limitless flexibility when booking a flight, allowing them to toggle between these features:
Baggage requirements
Flight details
Layovers and overnight flights
Luggage recheck
For those who are planning to travel in advance, WayAway gives the option of price alerts, which inform travelers of limited-time bargains and price drops.
How Does WayAway Work?
To use WayAway, simply download the app and create an account. From there, you can begin searching for flights, hotels, rental cars, and activities. The app will provide you with a variety of options to choose from, including different airlines, hotels, and rental car companies. You can filter your search results by price, location, and other criteria to find the best deal for your needs.
Once you've found the options that work best for you, you can book directly through the app. WayAway accepts all major credit cards and offers a secure payment process. You can also access your booking information and itinerary through the app, making it easy to keep track of all your travel details in one place.
What is WayAway Plus
The key benefit users will be drawn toward is the WayAway Plus membership plan. There are many travel aggregators on the market, but no one can boast WayAway's unique selling proposition — cashback.
How WayAway Plus works
Users buy an annual membership plan at an early-bird price of $49.99. They make bookings with travel services that offer cashback on WayAway Plus. For example, a tourist who books a hotel on Booking.com through WayAway Plus will receive their cashback reward after their stay.
A signature feature of WayAway Plus is that users receive actual cash, not points or miles. The money is sent directly to users' PayPal accounts, meaning that they are able to spend it how and where they want.
Good thing is that you can use the promocode ChasingWhereabouts and get 10% discount on our WayAway Plus Subscription
Cashback rates for users of below application
Flights: up to 5%
Booking.com: up to 20% off on selected deals
KiwiTaxi.com: 10%
Tiqets.com: 7%
Hostelworld: up to 6%
QEEQ: 5%
Rentalcars.com: 5%
GoCity: up to 3%
Klook: up to 7%
Viator: 6%
AirHelp: 10%
GetYourGuide: 8%
When you book a flight or a hotel with a Plus membership, the website will tell you what cashback you'll receive. You can then withdraw your cashback at any time into a Paypal account.
In addition to cashback, Plus membership gives you the added benefit of having access to WayAway's 24/7 customer service team, who can help you with any questions.
You'll also have access to their Hidden Gems page if you're a Plus member. Gems are tips and best-kept secrets that locals tell you about a city. This is a unique and extremely helpful feature.
Sample Planning for Booking Flights – Frankfurt to Barcelona
For this sample calculation I am checking the trip for 2 person from Frankfurt to Barcelona for the upcoming trip in the next week. Yes this is not the ideal scenario but would help us understand how the planning would look like in the last-minute.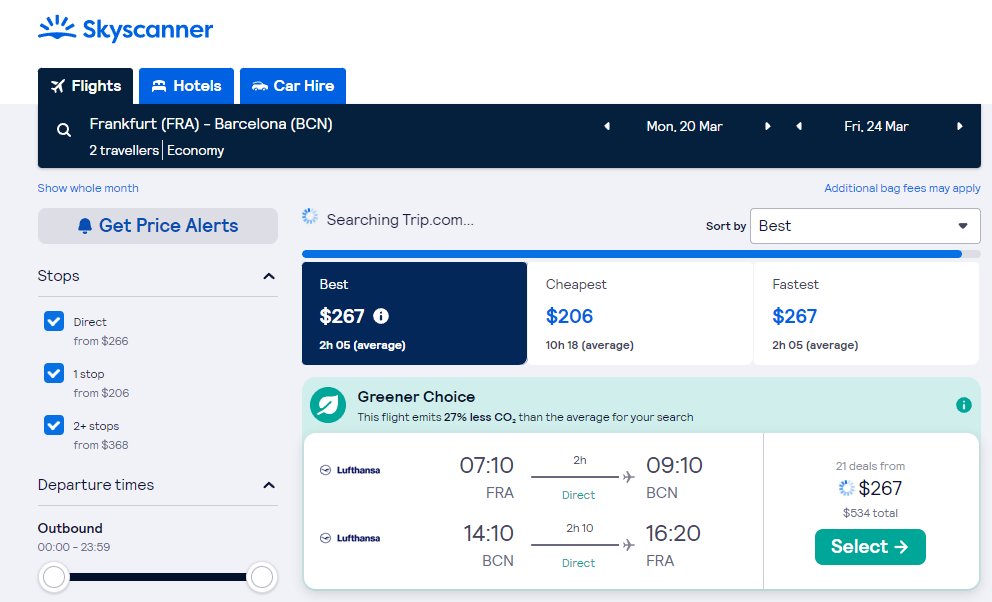 Sample Booking for Hotels from Booking.com
Wayaway totally crushing the Hotels booking marketplace because you eventually get a discount on the Bookings made for the accommodation which normally you do not get much. It works with the genius discount of Booking.com so it it pretty awesome.
This is one of the many areas where WayAway steels the deal and is an excellent option to try.
Pros of WayAway
All-in-One Platform: WayAway offers users the ability to book flights, hotels, rental cars, and activities all in one place, making it a convenient and time-saving option for travel planning.
Price Comparison: The app provides users with a variety of options for each travel category, allowing them to easily compare prices and find the best deal.
User-Friendly Interface: WayAway is easy to navigate and user-friendly, making it accessible for all types of travelers.
Secure Payment Process: WayAway accepts all major credit cards and offers a secure payment process, ensuring that your personal and financial information is protected.
Cons of WayAway
Newly established company
Few ways to contact customer support
WayAway Affiliates
In addition to their Plus Membership, WayAway also has an affiliate program. This allows you to earn money on your travel content by partnering with WayAway.
On average, partners make 1.1% on the ticket price and $10 with every purchase of Plus membership. WayAway also uses the 30-day cookies lifetime, so you can still earn commissions if someone uses your link up to 30 days after initially clicking on it.
If you're interested in branching out and becoming a partner with more travel sites, be sure to check out Travelpayouts. It is one of the ways to earn as a travel blogger.
WayAway Customer Support
Although 24/7 support is offered to Plus members, those who aren't members don't have quite the same level of support.
While there is a detailed support page on their website, the only other way to contact them is via the "contact us" form on their website.
You can also try to reach WayAway via their social media profiles. They're on Facebook, Instagram, and Twitter!
Is WayAway worth it?
Whether you're hoping to earn some cash back or explore the cheapest options for flights, WayAway is a website you should add to your travel resources.
Not only is the site straightforward to navigate, but it's super clear on what's included in the ticket and what options you have for your chosen route. I also like that when you look at the details of a flight, it tells you the included amenities and seat details beyond a simple one-word description like "economy."
The Plus membership is worth exploring for some cashback perks, especially if you're a frequent traveler. Every flight search will tell you exactly how much cashback you're going to get, and the fact that you can withdraw via Paypal at any time makes the process smooth and easy.
WayAway Reviews: Exploring the Pros and Cons of this Travel App
Conclusion
It is a good subscription based cashback application which gives you direct money in your paypal account.
Pros
Easy website to navigate
Cashback program
Affiliates program
Flight options come with seat options and descriptions
Local Gem neighborhood guides that are written by locals, for Plus members
Cons
Newly established company
Few ways to contact customer support