One of Switzerland's oldest, most well-known, and most well-liked summer vacation destinations is Interlaken. If you're looking for an amazing European vacation spot, look no further than Interlaken, Switzerland! This gorgeous town is nestled between two lakes and boasts some of the most stunning scenery in the world. There's plenty of things to do in Interlaken, from hiking and biking in the mountains to enjoying the town's lively nightlife. So come on over to Interlaken and explore all that this amazing town has to offer!


Surrounded by stunning Alpine scenery, this charming town offers a wealth of activities for travelers of all ages. Here are just a few of the many things you can do in Interlaken:
Top 20 things to do in Interlaken Switzerland
1. Take a cable car up to the summit of Jungfrau Mountain for breathtaking views of the Eiger, Mönch, and Jungfrau peaks
If you're looking for breathtaking views of the Swiss Alps, look no further than the Jungfrau Mountain summit. You can take a cable car up to the top for unparalleled views of the Eiger, Mönch, and Jungfrau peaks. The Jungfraujoch railway station was built in 1912 and is now a UNESCO World Heritage Site.
The station is located at an altitude of 11,332 feet and offers stunning views of the Swiss Alps. The Jungfraujoch is also home to a variety of tourist attractions, including the Sphinx Observatory, the Ice Palace, and the Aletsch Glacier. It's an unforgettable experience and definitely one of the best things to do in Interlaken, Switzerland!
Join the adventure, stay updated with our travel stories!
Expect insider tips, destination inspiration, and travel stories delivered straight to your inbox.
Jungfrau Top of Europe from Interlaken is one of the best tour which one can take for this journey. We would also recommend you to book the Jungfrau Tickets online to have smoother experience.
One good way to reach from Interlaken to Jungfraujoch is by taking a train ride from Interlaken to Jungfraujoch.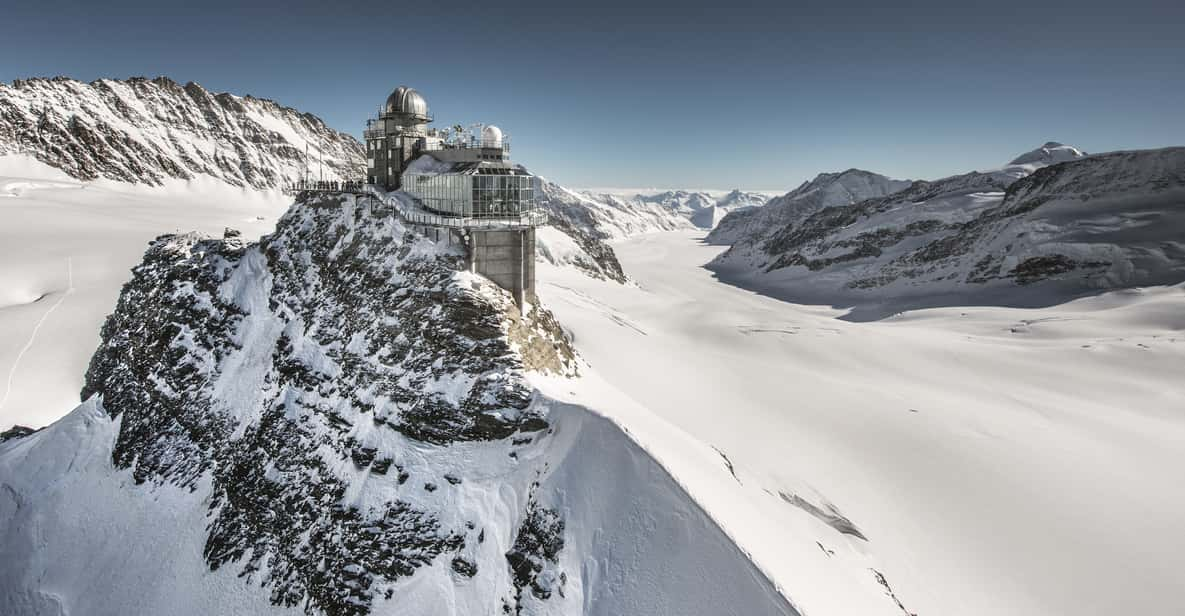 2. Go whitewater rafting on the Aare River
The Aare River is one of the most popular whitewater rafting destinations in Switzerland, and for good reason. The river offers a variety of challenges for rafters of all skill levels, making it the perfect place to get your whitewater fix.
Whether you're a seasoned rafter or a first-timer, you're sure to have a blast rafting on the Aare River. You can also take the Boat Tour to Lake Thun and Lake Breinz which can be other awesome thing to try in Interlaken.
3. Hike or bike through the picturesque Lütschental Valley.
The valley is renowned for its stunning scenery, with lush meadows, towering mountain peaks and pretty villages nestled along the river. It's the perfect place to get some fresh air and exercise, and there are plenty of routes to suit all fitness levels.
So what are you waiting for? Grab your hiking boots or bicycle and hit the trail!
One other thing which is also interesting is checking out the river rafting experience in Lutschine River.
4. Visit the Trümmelbach Falls, a series of 10 cascading waterfalls inside a mountain
The Trümmelbach Falls are one of the most popular tourist attractions in Interlaken, Switzerland. The falls are a series of 10 cascading waterfalls inside a mountain, and they are truly a sight to behold. If you're looking for things to do in Interlaken, Switzerland, visiting the Trümmelbach Falls should definitely be on your list.
If you wish to learn more about the falls then check out its official page.
5.Explore the interactive exhibits at the Jungfraujoch Top of Europe Visitor Centre.
If you're looking for an interactive and educational experience while on your travels, be sure to stop by the Jungfraujoch Top of Europe Visitor Centre. This exciting centre offers a variety of exhibits that are perfect for all ages.
One of the most popular exhibits is the Alpine Sensation 4D Cinema. Here, you'll be transported into the stunning Swiss Alps and learn all about the region's history and culture. You'll even get to experience a simulated ride on the iconic Jungfraubahn railway.
Other exhibits at the Jungfraujoch Top of Europe Visitor Centre include the Alpine Adventure Garden, where you can explore the alpine environment, and the Mountain Museum, which showcases the fascinating geological history of the Alps.
Whether you're a nature lover, a history buff, or just looking for a fun and educational experience, be sure to check out the Jungfraujoch Top of Europe Visitor Centre on your next trip to Switzerland
6. Take a scenic train ride on the GoldenPass Line.
It is one of the most scenic train rides in the world and it is a great way to see the Swiss Alps. The train ride takes you from Montreux to Zermatt and it is a great way to see some of the most beautiful scenery in the world.
7. Relax in one of Interlaken's many parks and gardens, such as the Japanese Garden or the Heimwehfluh Park.
The Japanese Garden is a tranquil oasis located in the heart of the city. It's the perfect place to relax and unwind after a long day.
The Heimwehfluh Park is also a great place to enjoy the outdoors. Located on a hill, it offers stunning views of the city below.
Both of these parks are great places to spend a leisurely afternoon.
8. Sample the local cuisine at one of Interlaken's many restaurants and cafes.
Interlaken's many restaurants and cafes offer a variety of cuisines for every taste. There is something for everyone, whether you are looking for a quick bite or a leisurely meal. The cafes offer a variety of pastries and coffees, while the restaurants offer a wide range of dishes from all over the world. There is something to suit every taste and budget, so you are sure to find the perfect meal to suit your needs.
9. Shop for Swiss chocolate, watches, and other souvenirs.
When visiting Switzerland, be sure to bring home some delicious Swiss chocolate, a watch, or another souvenir! Swiss chocolate is some of the best in the world, and a Swiss watch is a timeless classic. There are plenty of other great souvenirs to choose from as well, so you're sure to find the perfect one to remember your trip by.
10. Learn about Interlaken's history at the town's museum.
Interlaken's history museum is a great place to learn about the town's past. The museum has a wide range of exhibits that cover the town's history from its early days to the present. The museum is also a great place to learn about the people who have lived in Interlaken over the years.
11. Visit Harder Kulm
Harder Kulm, a lookout point with expansive views of the mountains and valleys of the Berner Oberland region, is located high above the Swiss town of Interlaken. From the town, visitors can either trek or ride a funicular railway to the location. Once at the summit, there are several attractions to enjoy as well as the views and refreshments.
The best thing to try is the funicular ride from Interlaken to Harder Kulm.

12. Adventure Park Interlaken
This high ropes park in Interlaken is a paradise for nature lovers and thrill seekers, including nine distinctive courses of varying degrees of difficulty. While children can test their balance on the family-friendly Butterfly Walk, adventurers can take on more than 120 different physical challenges on the park's treetop ziplines, bridges, and swings.
13. Visit ST. Beatus Caves in Interlaken.
According to legend, a dragon sought refuge in these caverns in the sixth century while being pursued by the hermit monk Beatus of Lungern. Stalagmites, stalactites, lakes, and waterfalls abound in the St. Beatus Caves (St. Beatus Hohlen), which are located near to Interlaken's lakes and were formed over many years which make it such a fascinating site to learn and explore
14. Schynige Platte
You'll feel as though you've traveled back in time when you board one of the old wooden coaches on the historic cogwheel railway that ascends to Schynige Platte in Switzerland. Once you're on the Alpine plateau, you can enjoy stunning views of the Jungfrau region and the Eiger peak.
15. Hop on a hot Air Balloon
Consider flying high above the magnificent Swiss Alps and the cities below. As you fly over this lovely region, you'll pass through forests, see pristine meadows, soar over lakes, and, of course, be immersed in the mountains and glaciers.
This half-day tour leaves very early in the morning, which gives you the opportunity to see the sun slowly rise over the Alps, adding to the exclusiveness of the experience. It will undoubtedly be a magnificent sight!
16. Go for Bunjee Jumping
A once-in-a-lifetime experience, bungee jumping in Interlaken. Imagine the thrill of free falling in one of the world's most stunning locations. You will ascend 132 metres in a gondola before jumping towards Lake Stockensee. Once you have completed flying, you will be safely lowered into a boat that is waiting below.
17. Visit the village of Grindelwald
To beat the crowds of tourists, learn about local culture, and see breathtaking sights, take a stroll around this picturesque village. A small village is located directly at the banks of turquoise lakes, which are encircled by mountains and glaciers.
If you want to get away from the bustle of the city center, you must see this!
18. Paraglide through Swiss skies
Due to the strong winds, breathtaking scenery, and abundance of qualified instructors, paragliding is a very well-liked activity in Interlaken. Experience the thrill of tandem paragliding with a pro who will lead you through the air while providing you with panoramic views of the mountains and lakes.
You'll slowly float through the air, taking in everything around you. Imagine how wonderful it would be to view Interlaken from the air! You will get 5 to 10 minutes of airtime on a "basic flight," but if you add on a little for a "sensational flight," you will have 12 to 30 minutes.
If you are looking to do some Paragliding in Interlaken then we would recommend you to checkout Swiss Alps Tandem Paragliding Tour.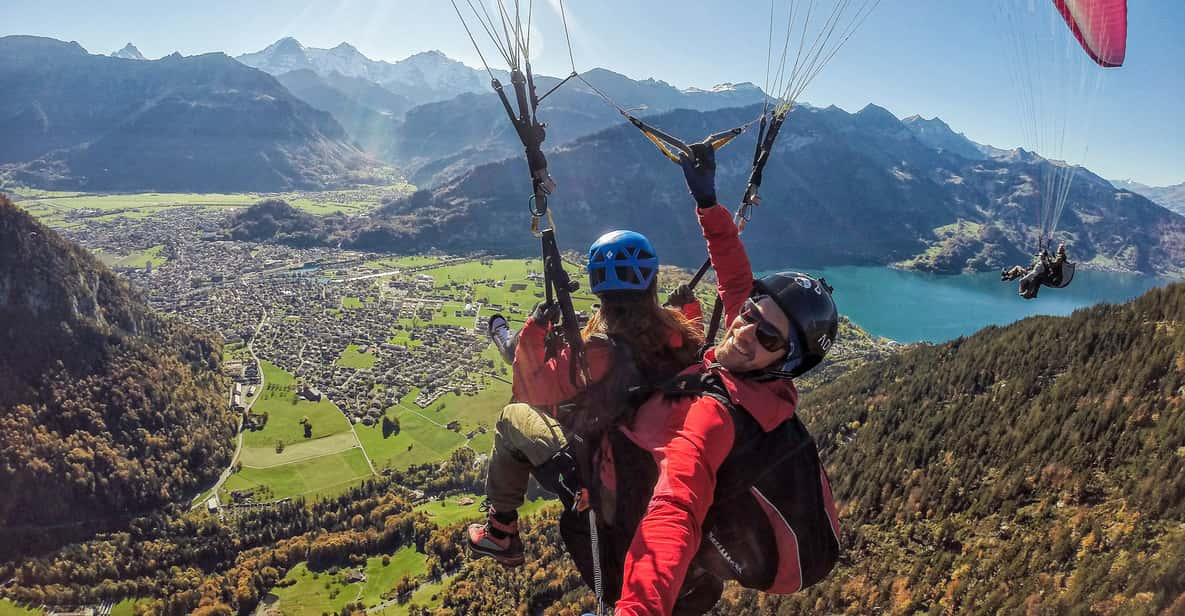 19. Try out Skydiving
Use your trip to Interlaken as an occasion to parachute from a helicopter if you're the most fearless of travellers.
You will get the chance to jump from a helicopter in the alps after climbing steadily upward. As you soar into the air, take in the snowy surroundings. But don't worry; you'll be connected to an instructor the entire dive, ensuring your safety.
This is perhaps the greatest heart-pounding experience in Interlaken for all of the adrenaline seekers out there.
We would recommend you to check this thing out prior and get your booking done for Skydiving in Interlaken.
There's something for everyone in Interlaken, Switzerland. So, start planning your trip today!
We hope you like our list of Top 20 Things to do in Interlaken Switzerland. Do let us know if we have missed anything.
Need Help with Booking –
Taking Insurance for your trip is of the utmost importance, I usually get my Insurance from World Nomad or Safety Wings you might wanna check them for your future trips.
If you are travelling and you don't know what to pack then our Packing List would come out in handy for you, Last Minute Packing is especially for the last minute occasion but there are some detailed packing list as well like The Ultimate Packing List and one post especially for Europe Europe Packing List
Wondering whether you need Visa for your travel then check here if you need visa for Europe or check out the new rule for Travel To Europe
Enjoyed it? How about sharing it with your friends on social media? Just click one of the buttons on this site to share this piece of content.
Pinning an image is a great method for sharing this article on social media. This article will become saved to the Pinterest board, making it easily accessible in the future.
Hey! Thanks for reading this! Look how gorgeous you are.