Welcome to our travel guide to Santa Posa, the perfect destination for those seeking sun, sea, and adventure. Nestled on the coast of Spain, this picturesque town has so much to offer. From stunning beaches and crystal clear waters to local cuisine and authentic experiences, Santa Posa truly has it all. We've explored every corner of this beautiful town and we're excited to share our top things to do in Santa Ponsa with you.
So, whether you're a solo traveler, a couple looking for a romantic getaway, or a family searching for the perfect vacation, Santa Posa is the place for you. Get ready to experience the best of Santa Posa and let's dive in!. It is one of the top visited places to spend your summer in spain.

Santa Ponsa is a well-known summer destination that is tucked away in a protected cove with spectacular mountain scenery. Many tourists from Western Europe visit Santa Ponsa for its expansive blue flag beach, which is surrounded by a bustling promenade. However, a trip to Santa Ponsa offers much more  than a luxurious relaxation on the silky soft white sand.
If you're planning a trip to Santa Posa, it's always a good idea to have travel insurance to ensure that you're covered for any unexpected events that may occur during your travels. SafetyWing offers Nomad Insurance, which is designed specifically for digital nomads and travelers who are constantly on the move.
With Nomad Insurance, you'll have access to comprehensive coverage for medical emergencies, trip interruption, and more. Plus, you can easily sign up for the insurance online, and it's available to travelers from over 180 countries. So if you're heading to Santa Posa, be sure to consider getting travel insurance.
Top Things to do in Santa Ponsa Spain
Relax at the beach
Playa de Santa Ponsa is one of the island's longest beaches, measuring 1,300 metres in length. As a result of its fine sand and shallow seas, this beach is excellent for families. There are umbrellas, loungers, showers, wheelchair access, and a beach bar, as well as all the amenities you may need for a leisurely day at the shore. Jetskis, kayaks, and paddleboards are available for rent nearby if you become bored with sunbathing, snorkelling, or building sandcastles.
Enjoy dinner with views
Visit the Nautical Club in Santa Ponsa for a lunch to remember. A picturesque patio with views of the harbour is available to customers at the waterfront restaurant 7Fuegos. It is not unexpected that the gourmet menu offers top-notch meat dishes since it is owned by Argentines. The Uruguayan grill place El Ceibo is another eatery with a stellar reputation.
Visit the Puig de Sa Morisca Archaeological Park
This pine-filled park is located 20 minutes south of Santa Ponsa's main beach for visitors seeking a natural setting. It is 35 hectares in size and has nine other architectural features in addition to fifteen other marked archaeological sites. The Son Ferrer Tomb is one of these. The paths are a little uneven, making them unsuitable for people with mobility problems or families with young children. Beautiful views of the bay are a reward for the trek.
Attend a traditional festival
There's a good possibility that if you happen to be in Santa Ponsa in September, you'll be there to enjoy the exciting Fiesta del Rei en Jaume I. There is a sizable war reenactment on the beach, and the majority of the town dresses up as a Moor or a Christian from the 1229 Catalan re-conquest. The religious fiestas of Roco in June and Sant Jaume in July, both in the manner of Andalusia, are among the many fiestas that take place throughout the year. The beachfront promenade transforms into a lively hub with craft booths, food trucks, and live music for all of these fiestas.
Have an adventure at Jungle Parc
500 metres from Santa Ponsa's beach, in a nine-hectare forest, you can experience the only tree circuit adventure on the island. Visitors will be able to cross bridges, ropes, vines, and zip wires. For adults, there are two circuits. For those seeking a more difficult challenge, the Extremo circuit is perfect. Children ages four and older can also participate in a pirate circuit.
Play golf
For golfers, Santa Ponsa is a popular resort. The three classes are simply referred to as 1, 2, and 3. Golf Santa Ponsa 1 is the only one that is accessible to the general public and it spans 73 hectares. Its tenth hole is one of the longest in Europe at 590 metres. There are native trees, bunkers, and water hazards on the open, comparatively flat course. Santa Ponsa has frequently played host to the Balearic Open.
Go Scuba Diving
The southwest is a fantastic diving area because to its calm, clean waters and diverse species. It is simple to get to the marine reserves on the Islas Malgrats, El Toro, and Isla Dragonera. Even better, 400 metres from the Malgrats lies a buried 133-meter Balearic frigate, which is a scuba diver's dream come true. You can get everything you need at one of Santa Ponsa's diving businesses, whether you're a beginner searching for an introduction course or an experienced diver wishing to rent gear and arrange a boat trip.
Have fun at a Waterpark
6 kilometres away in Magaluf is the Western Water Park. It offers family-friendly attractions. Adrenaline seekers will adore Crazy Horses' competitive parallel slides, The Beast's 30 metre vertical drop, and El Latigo's exhilarating sharp turns. The Daky Park and a few additional slides with shallow finishes will be a hit with the little ones.
Discover Santa Ponsa's nightlife
Irish pubs, cocktail bars, and live music venues are plentiful in Santa Ponsa. In fact, one of the greatest Saint Patrick's Day parties on the islands is held here since it is so well-liked by Irish tourists. In contrast to the famed Magaluf, it is more family-friendly and may get very lively in the summer. In reality, Magaluf is just a ten-minute taxi trip away if you're looking for large nightclubs. Open-air performances and live concerts are held in The Square throughout the summer months, but the major action happens on Carrer Ramón Montcada.
Visit Port Adriano
Less than 3 miles from Sant Ponsa's centre is this upscale harbour,  is home to many superyachts. Drink something cold next to the peaceful marina or eat out at one of the fantastic eateries around. For Mediterranean food, Bruno's is suggested; for fusion tapas, Coast by East. Additionally, the port is home to a few high-end clothing and concept boutiques. All throughout the year, a diverse calendar of events draws the best musicians from around the world to perform here.
Watch the sunset at El Chiringuito
On a rocky outcrop at Costa de la Calma, north of Santa Ponsa, is where you'll find this unassuming beach bar. On the menu are pizzas and pa amb olis, and there are loungers and a diving board that may be utilised in the water during the day. The evening is one of the greatest times to visit to see the sunset. Enjoy a true Mediterranean experience while sipping a tinto de verano and listening to the waves.
Cabrio Sports Car Tour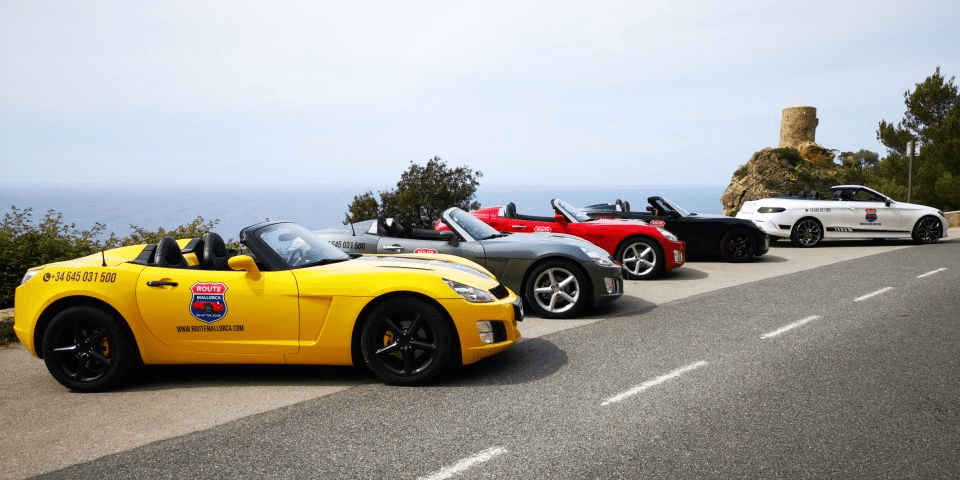 For families who enjoy a bit of luxury and adventure, a cabrio sports car tour of Santa Ponsa might be just the ticket. You can rent a sleek and stylish convertible sports car and explore the beautiful countryside and coastline of the island.
Take in the stunning views of the Mediterranean Sea as you cruise along the winding roads, feeling the warm breeze in your hair. You can stop at various scenic spots and take memorable photos with your family. This is a unique and exciting way to experience the beauty of Santa Ponsa in style.
Scuba Diving in Santa Ponsa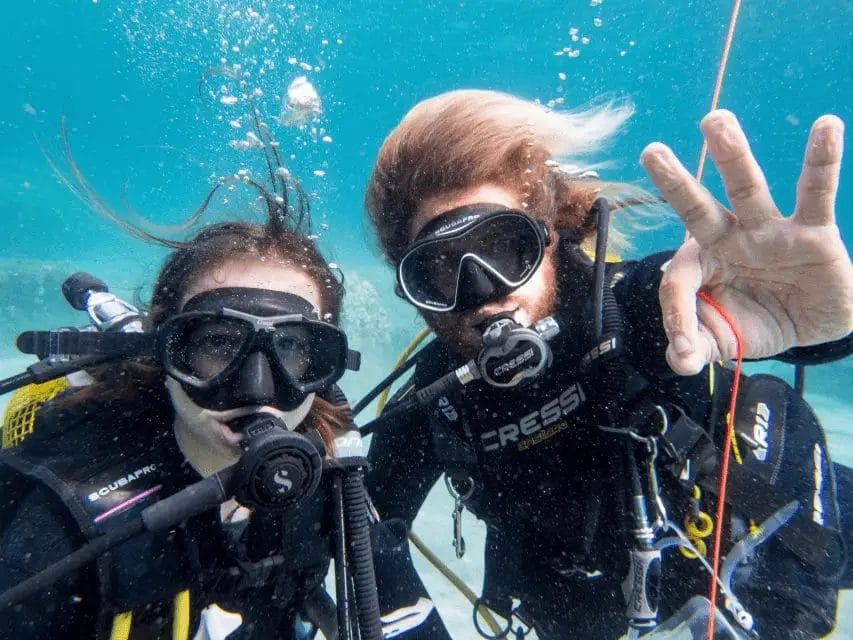 If you're looking for a more adventurous activity to do with your family in Santa Ponsa, scuba diving might be just what you're looking for. The waters surrounding Santa Ponsa are home to a variety of marine life, including octopuses, seahorses, and colorful fish. There are many diving centers in the area that offer guided tours and equipment rental for beginners and experienced divers alike. It's an exciting and unique way to explore the underwater world and create lasting memories with your family.
Charter a boat
You could be tempted to rent a boat because of the glistening turquoise sea. Undoubtedly, Santa Ponsa is a fantastic starting point for an ocean excursion. There are many tour companies available to advise you on the various types of vessels. It is entirely up to you and your money whether you want to hire a no-license-required speedboat or have a skipper at the helm.
Kayak to the Malgrats
Visit the Malgrats Islands on a kayak tour with a guide. The Santa Ponsa Nautical Club can arrange the half-day excursions. The natural pools and caverns will be shown out by your guide, and swimming time will be provided. You can rent single or double kayaks with backseats if you'd rather travel alone for a more pleasant voyage.
We would recommend your try this Kayak Excursion if you are planning your Kayak Trip.
Go Cycling
Pick from a variety of routes with varied lengths and levels of difficulty. With views of Dragonera island, the 68-kilometer trip to Sant Telmo is particularly beautiful. A pedestrian route connects Santa Ponsa with Palmanova via the roomy, well-maintained trail. It connects the town to a number of Calviá municipality neighbourhoods, including Son Ferrer, El Toro, Costa de la Calma, and Portals Vells.
Stroll along the seaside promenade
Spend a little money on some gelato and enjoy a leisurely stroll along the lovely promenade. A walkway leads you past peers and seaside eateries as it loops around the beach's northernmost point and continues along the shore. You can also travel south along Avinguda del Rei Sant Jaume to the lovely Caló d'en Pellicer bay. You may enjoy a breathtaking view of the islets from Mirador Illes Malgrats, which is a further fifteen minutes' walk away.
Go on a Quad Safari
Experience the rush of quad biking on trails set up by tour companies situated in Santa Ponsa. Excursions take motorcyclists around rugged, twisting roads that combine sea and mountain scenery for stunning views. The journey can include include a dip in the sea at Sant Elm and a quick stop in Port Andratx.
Santa Ponsa offers family-friendly activities with its beaches, playgrounds, sports venues, and restaurants. It's also a great place to start if you want to see more of the island. If you're considering planning a vacation in Santa Ponsa, you might want to look at our place guide for additional details.
Go for Snorkeling in Santa Ponsa
Snorkeling is a great way to explore the underwater world and get up close with the local marine life in Santa Ponsa. The crystal-clear waters of the Mediterranean Sea make it an ideal spot for snorkeling, and there are many guided tours and rental shops available in the area. Some of the marine life you might see while snorkeling in Santa Ponsa include octopuses, sea turtles, and colorful fish. It's a fun and educational activity for the whole family to enjoy.
Where to stay in Santa Ponsa?
Santa Ponsa offers a range of accommodation options for travelers, from budget-friendly hotels to luxurious resorts. If you're looking for a hotel with easy access to the beach, you may want to consider staying at the H10 Casa del Mar. This hotel is located just a short walk from the beach and features modern rooms with sea views, as well as a pool, a spa, and a rooftop bar.
Another great option is the Hotel Bonanza Park, which is situated in a quiet residential area just a few minutes' walk from the beach. This hotel offers comfortable rooms, an outdoor pool, and a buffet restaurant.
For a more luxurious stay, you may want to consider the Iberostar Suites Hotel Jardín del Sol. This adults-only hotel features spacious suites with sea views, as well as a pool, a spa, and several restaurants and bars. No matter what your budget or preferences, you're sure to find a great place to stay in Santa Ponsa.
Check more Hotels in Santa Ponsa
Conclusion
Santa Ponsa, Spain, offers a wide range of fun activities for all ages. From relaxing on the beach to exploring the natural beauty of Serra de Tramuntana, there is something for everyone. The family-friendly activities listed in this article are just a few of the many things that you can do in Santa Ponsa. With its warm climate, stunning beaches, and rich culture, Santa Ponsa is the perfect destination for your next family vacatio
FAQ
What is the best time to visit Santa Ponsa?
The best time to visit Santa Ponsa is during the summer months from June to September when the weather is warm and sunny.
Is Santa Ponsa suitable for families with young children?
Yes, Santa Ponsa is a family-friendly destination that offers a range of activities suitable for children of all ages.
How do I get to Santa Ponsa?
The easiest way to get to Santa Ponsa is by flying into
Palma de Mallorca
airport and then taking a taxi or a shuttle bus to the town.
Are there any water sports available in Santa Ponsa?
Yes, Santa Ponsa offers a range of water sports such as sailing, windsurfing, kayaking, and more.
Is Palma Aquarium suitable for young children?
Yes, Palma Aquarium is suitable for children of all ages and offers different sections and experiences that cater to different age groups.
Get your Notion Travel Planner Template!
Embark on your next adventure with the Wanderlust Planner – Notion Travel Planner Template – Notion Travel Planner Template for 2023 (chasingwhereabouts.com), the ultimate Notion Travel Planner Template. Organize your wanderlust-fueled dreams and turn them into unforgettable journeys. Whether you're a seasoned globetrotter or a newbie explorer, this template has you covered.