Ibiza is a great party destination. It is a party destination that has been at the forefront in Europe's clubbing and dance music scene for over 25 years. The super-clubs and bars of Ibiza are legendary.
After a wild night out, you can relax at one of the stunning beaches and enjoy a day of therapy. Ibiza is a great choice for families and older visitors. You can visit the Dalt Vila, a UNESCO-listed building in Ibiza Town, or tour the peaceful whitewashed villages of Ibiza's rural interior. The island's 15 Blue Flag beaches are just a short drive away.
Let's take a look at the top things to do in Ibiza.
1. Dalt Vila UNESCO site
Strong renaissance fortifications constructed by Charles V in 16 century protect the highest part of Ibiza Town.
These walls were built to protect against attacks by Berber pirates and invasion by sovereign forces such as the French.
It is worth taking a tour of the fortifications in order to see the seven bastions. Each one has a different story.
For instance, the Santa Lucia bastion houses an 18th century powder magazine. It commands spectacular views over the harbour and old fishing district.
2. Ibiza Cathedral
There are many alleyways within the walls that you can explore. These alleys are filled with boutiques, galleries, and other local amenities such as bakeries. Sometimes they will open up to charming old squares such as Plaza de Sa Carrosa or Plaza de la Vila.
The cathedral is located at the top of the old town, with a stunning view over the water. You can spend a few minutes inside to view the 1399-dated gothic gold-and-silver monstrance and the 14th and fifteenth century gothic panel paintings.
3. Playa d'en Bossa
The longest beach on Ibiza is the main resort. It's the perfect spot for young party-goers on summer days. You can relax under a parasol while relaxing music wafts above the shore.
You can hire jet skis or paddleboats next to the beach if you have the energy. There are plenty of places where you can get food when you feel hungry.
It's party time after dark and until dawn, with Ushuaia and Space, two of Ibiza's biggest clubs, right here in the resort.
4. San Antonio
The second-largest city on the west coast of Ibiza was famous in the 80s, 90s. It's a more modern place, but it still offers the most desirable combination of world-famous nightclubs and beaches.
You can visit the bay in the morning to see the narrow sandy beaches and crystal clear waters. Or, you can stroll along the promenade to enjoy a coffee or a beer while taking in the Columbus egg monument.
Cafe del Mar plays lounge music as the sun sets.
Buses take you to legendary nightclubs Eden and Es Paradis.
5. Talamanca
You can find another beach just a few minutes from Ibiza Town if you are looking for a more peaceful day on the beach.
This area is characterized by a large expanse of snow-white sandy sand, with low density development. Talamanca's scenery is composed of small, pine-cloaked hills as well as the small holiday village of Cap Martinet.
There are many great places to eat right on the beach, including some that serve Balearic cuisine favorites like bullit de piix and more modern options. The beach is hidden between two hills, making it gentle and kid-friendly.
6. Santa Eulalia
Ibiza is not all about the raucous nightlife. You'll find this popular family resort, located on the east coast of Ibiza Town, approximately 15 km northeast.
Nearly all the resort's beachfront is made up of golden sandy beaches. There are plenty of shops and restaurants to make your day more enjoyable.
A pretty little promenade runs behind the house, with benches and lampposts made of wrought iron. It is located beneath the palm tree fronds.
If you're looking for a round of golf in Ibiza, the only course in the area is right next to the resort. The weekly Las Dalias Hippie Market can also be found in San Carlos on Saturdays.
To see the adorable church at the top, you can also climb the Puig de Missa hill.
7. Punta d'es Moscarter
It's incredible how wild and remote the northern tip of an island as small as Ibiza can feel. The island's northern tip is home to pine forest, farmland, and small holiday villages clustered around coves.
You can do something different by wearing sturdy shoes and walking the cliff-top trail that runs from Portinatx up to the lighthouse. It is 52m tall and was constructed in the 1970s.
It is quite a challenging trek through pine scrub, juniper, but it is well worth the photographs you can take from this headland.
8. Cala Comte
The beach is rated by those in the know as one of the best beaches on Ibiza's west coast. You can get there by bus or ferry from San Antonio. You will be amazed at what you see upon arrival.
The sand runs along the coastline for 800 metres. A small, wedge-shaped island is located offshore. This helps create large, turquoise-colored lagoons.
As the sunsets here are spectacular, the bars on the rocks will be filled up.
9. Island of Es Vedra
The natural park protects this uninhabited island off Ibiza's southwest coast. It is easily accessible by boat from San Antonio and Ibiza Town. There are also water sports centres that offer jet-ski tours and snorkelling excursions.
It is a stunning, almost alien place. A rugged island with a monolithic slab made of limestone that rises to 413 metres.
To capture the beauty of the landscapes and wildlife, such as falcons and lizards, climb ashore.
10. Spas
Ibiza is just as famous for its holistic spa scene and relaxation scene than it is for electronic music or nightclubs.
There are 15 spas on the island. Many are attached to apartments and hotels. Others are clubs that welcome visitors.
Atzaro Spa is an example of a tranquil agritourism complex that is surrounded by the olive and citrus groves in the Ibizan countryside.
There are so many options for treatments at this location. You can exercise in the gym, do yoga, or just relax in the pool.
11. Wasser activities
The sea is the playground of Ibiza. Nearly all of the resort beaches offer watersports centres for parasailing, jet-skis and water-skiing. You can also stand-up paddle and kayak.
A yacht charter can be arranged at the port of Ibiza Town. You can either sail solo if you have the experience, or you can hire a boat with a captain to take you around Ibiza's rugged coast.
Your adventure could be under the waves. The island has 17 diving schools. It's a great place to go diving. There are many caves and underwater drop offs.
This top-rated activity might appeal to you: Scuba Diving For Beginners
12. Food and drinks
A Balearic island pork delight is worth the effort. Sobrasada, a soft-ground pork sausage similar to chorizo, is seasoned with paprika.
Although it is loved all over Spain, it originated in Ibiza and Mallorca. Bullit de peix is a traditional main dish that's delicious and authentic. It can be found in local restaurants all over the island.
It is made with potatoes and grouper, but the shrimp and lobster are added to the dish. The whole thing comes with an aioli.
13. Aquarium Cap Blanc
You won't find an aquarium like it anywhere else. It is located just outside San Antonio in a cave that was once home to lobster trappers.
Both children and adults can now go underground to view all kinds of marine species including conger, grouper, morays, and morays.
This attraction also serves as a rehabilitation centre for sea turtles. The boardwalks that run above the well-lit cave pools will allow you to view the sea life.
14. Family fun
Ibiza is a great place for families. It has a few of the same attractions as other Mediterranean resorts like water parks and fun fairs. Attractions for children are more natural and low-key.
Horse Valley is located just outside of Ibiza Town. This stable rescues horses and ponies from neglect and organizes a variety of excursions in the rugged northern regions of the island.
Go-karting is also available at Santa Eulalia and San Antonio.
15. Formentera
Everybody visiting Ibiza should take a ferry from Formentera on the island's south shore.
Formentera is a Mediterranean destination with a different atmosphere and appearance than most.
First, the beaches (Playa de Ses Illetes and Calo des Mort), look almost tropical. They have turquoise waters, white sand, and are reminiscent of the Caribbean.
You can rent a bike to explore Formentera's beautiful interior. Then, you are free to ride along the dusty tracks through tiny whitewashed villages.
You won't be further than a few hundred meters from the beach and another beautiful sandy beach.
16. Wander around the Hippy Market Punta Arabi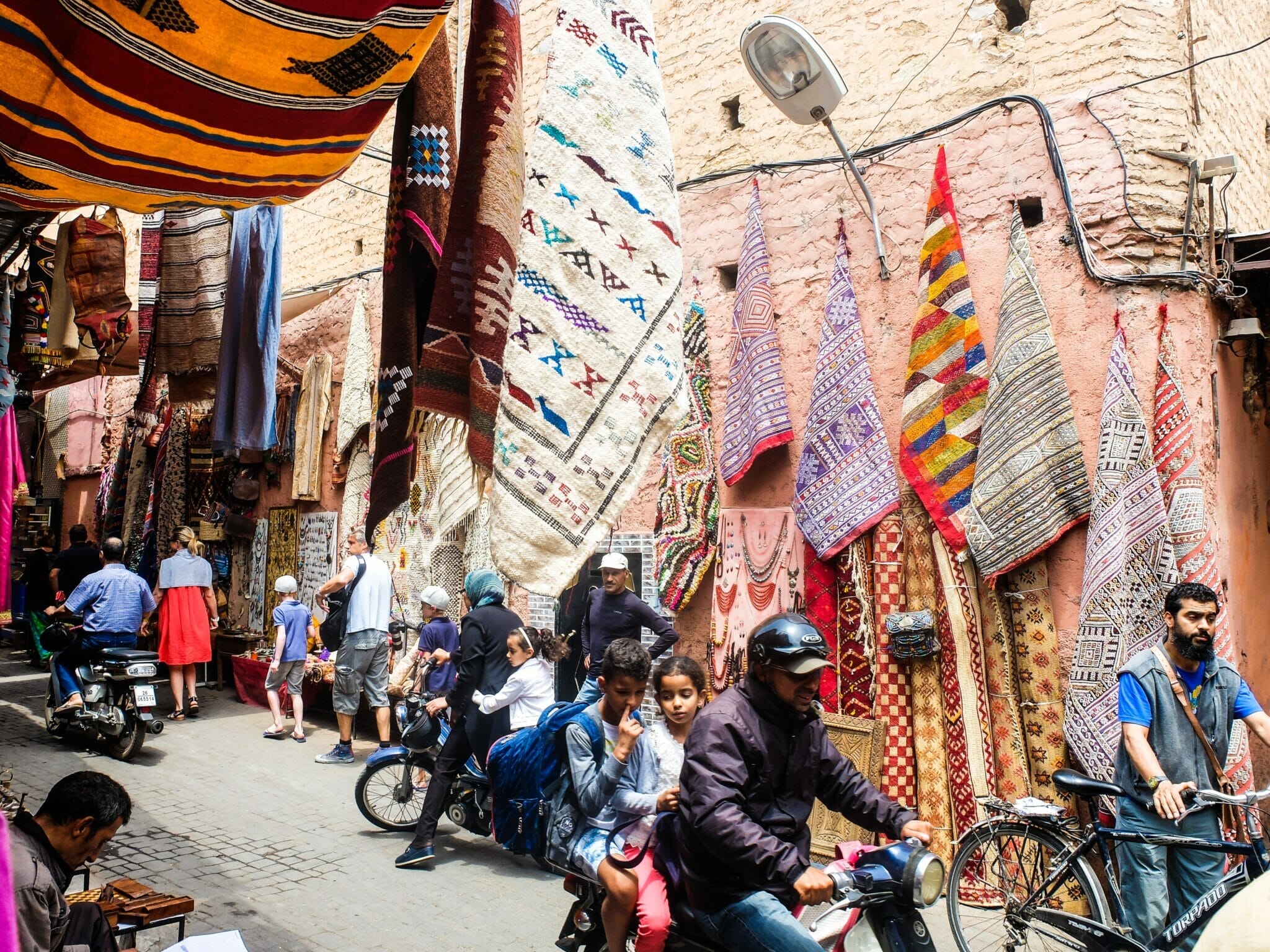 With 500 shops selling everything from vintage apparel to handcrafted jewellery and locally produced organic skincare specialties, Ibiza's hippest flea market comes alive every Wednesday.
In addition to the variety of trinkets, Hippy Market Punta Arabi also features plenty of live music, handmade paella, henna tattoo shops, and masseurs. This type of shopping experience is a great way to interact with local culture and the funky roots of Ibiza.
17. Ibiza Horse Valley
Ibiza Horse Valley should not be missed if you're seeking for some good, old-fashioned family fun when visiting the island.
This horse riding centre, which has one of the island's most well-known (and well-respected) animal attractions and serves as a shelter for abused horses, is a wonderful spot for both kids and adults who've always wanted to channel their inner cowboy or cowgirl.
18. Pass by the Time & Space outdoor sculpture
One of Ibiza's most distinctive outdoor art installations, Time & Space by Andrew Rogers is hidden between the beaches of Cala Tarida and Cala Codolar. The Australian artist's piece includes 16 sizable basalt stones, the tallest of which towers over visitors at a whopping ten metres, and is meant to represent the solar system using a Fibonacci sequence placement system.
19. Try Stand-up paddleboarding
Stand-up paddleboarding (SUP), a calming (but surprisingly challenging) activity that is increasingly gaining popularity, is the ideal way to get out on the water and explore Ibiza's stunning coast.
You can hire a board at one of the many locations along the coastline at San Antonia, Playas d'en Bossa, or Santa Eulària without any prior experience or instruction.
20. Go birdwatching in Ses Salines Natural Park
This natural reserve, which spans both land and sea marshes between the south of Ibiza and the north of Formentera, is made up of vast lagoons, wetlands, and coastal pools that are home to hundreds of different species, including flamingos, turtles, and sun-lounging iguanas.
Ses Salines is one of the more underrated things to do in Ibiza if you're looking for some fresh air, with no shortage of walking routes, whether you're a keen bird-watcher or a lover of all things natural.
That was our in detail post about Top Things to do in Ibiza Spain. If you are planning for visiting Spain in Summer then check our post about Best Places to visit in Summer in Spain.
Get your Notion Travel Planner Template!
Embark on your next adventure with the Wanderlust Planner – Notion Travel Planner Template – Notion Travel Planner Template for 2023 (chasingwhereabouts.com), the ultimate Notion Travel Planner Template. Organize your wanderlust-fueled dreams and turn them into unforgettable journeys. Whether you're a seasoned globetrotter or a newbie explorer, this template has you covered.