This article lists top things to do in Como Italy. These are fun activities that won't cost too much and you'll enjoy getting to know more about the city.
When thinking of Como, Italy, the first things that come to mind are Lake Como and fashion. This small town in Lombardy is located in northern Italy and is close to the border of Switzerland. It's no wonder that it has become a posh destination for the rich and famous.
Como was founded by the Romans in around 223 BC. The city was once one of the major industrial centers in Europe, but over time it became more well known for its beautiful lake than its factories. Lake Como is shaped like an upside-down Y and is surrounded by mountains. It's now a favorite spot for celebrities who want to get away from their hectic lives.
How to Reach to Lake Como from Milan?
Okay I don't really think you would be directly going to Como on the first place and the nearest major spot in Italy is Milan. So once you are done with exploring top things to do in Milan then it is best to take you day trip to Como from Milan or you can also think about taking some Lake Como Tour from Milan.
If you are really on budget and you want to travel cheap to Como from Milan then you can do something like what I did when I was travelling you can take the train tickets from Milan To Como which is going to be as cheap as 5-6 Euro and similarly you can get your tickets from Como to Milan for another 5-6 Euro.
You can also feel free to check the tickets below as well and I think you will get it on the same cost on the below tool as well
Tip- You have to validate your tickets if you are taking a manual copy of tickets from the station so don't forget to do that.
So without further adieu let us start with Top Things to do in Como Italy
Top Things to do in Como Italy
Como Cathedral
Como cathedral or Duomo di Como is one of the main attractions of the city. It was constructed as a replacement for the city's previous cathedral, known as Santa Maria Maggiore. The interior is simply breathtaking and is considered to be a masterpiece.
I have been to Como many times over the years and on each visit I tend to go inside of this cathedral. I have always been fascinated by its beauty, both inside and out. It's certainly one of the best things to do in Como Italy!
The original cathedral was built in 1396 but was demolished during World War II. Construction of the current building started in 1701 and finished in 1770. When walking around you can see various elements from different eras, including Gothic, Baroque and Neoclassical styles.
It is quite remarkable how they were able to build such a beautiful building with so many intricate features in such a short amount of time, especially given the fact that it was built during the 1700s!
You will find an eclectic mix of architecture inside of Como Cathedral too. The floorplan is made up of three naves, each with their own vaulted ceiling that gives it a very spacious feel, despite being relatively small for
Lido di Como
Lido di Como is a small public beach and park on Lake Como in Italy. It's not just a beach, it's also a beautiful park with great views of the lake and the city of Como. Lido di Como is located close to the center of town and can be reached by bus or car.
We went to Lido di Como on our visit to Lake Como in July, but we weren't completely sure what to expect from it. We had heard it was a nice park, with a beach and great views of the lake, but we weren't expecting something so big! There are plenty of things to do at this beach, so if you're planning on visiting Lake Como, I suggest spending an afternoon at Lido di Como.
How To Get To Lido Di Como
The easiest way to get to Lido di Como is by car or taxi. If you don't have your own vehicle, you can take bus number 1 from the center of town. Buses go several times per hour and take 10 minutes to reach the park.
Villa Olmo
Whether you are looking for a quick getaway from Milan or you'd like to spend a few days exploring Como, Villa Olmo is definitely worth a visit. Here's what you need to know about Villa Olmo and the Best Things to do in Como Italy.
Villa Olmo is one of the most famous villas in Como, Italy. Built by the noble family Olmo, it is open to the public most days from 09:00 to 18:00 (closed Mondays).
The neoclassical building was built between 1797 and 1798, and is one of the main attractions of Como. The architect Simone Cantoni designed it as a summer residence for marquis Innocenzo Odescalchi, son of the then bishop of Como.
In the early 19th century, Percy Bysshe Shelley wrote some of his finest poems including "Julian and Maddalo" whilst staying in Villa Olmo.
In June 1822, American writer Nathaniel Hawthorne stayed at Villa Olmo for three days. He wrote several paragraphs about it in his journal Entries of a Traveller. He called it 'A beautiful villa on the shores of Lake Como'
In 1883, Princess Marie Louise Amélie de Bourbon-Siciles (1849–1939), Duchess in Bavaria (later Empress Elisabeth of Austria), purchased the villa and brought her architect Otto Endell there to renovate it into an Art Nouveau style villa with a garden inspired by
Piazza Cavour
Piazza Cavour is the center of activity in Como. If you're looking for nightlife, you'll find the main clubs and bars here. During the day, it's a beautiful place to enjoy the scenery and watch people stroll by. The Piazza is surrounded by some of the most popular hotels in Como, including the Grand Hotel Villa Serbelloni and Hotel Metropole Suisse.
Piazza Cavour is also where many of Como's best restaurants are located. If you're looking for fine dining or a romantic meal for two, then this is where you'll want to be.
The piazza is always lively, especially during summer months when tourists fill the streets and cafes. There are many shops, restaurants and bars around it. It's a great place to meet people and have fun with friends.
If you're looking for something a bit more mellow than a night out on the town, then during the day Piazza Cavour can be a very relaxing place to sit and enjoy life on your own or with a special someone. So don't forget to include it in your things to do in Como Italy list.
Funicolare Como-Brunate
The Como-Brunate Funicular, called funicolare in Italian, is a cable railway that connects the city centre of Como to the hill town of Brunate at an altitude of 715 m. Along with the Como-Brunate Funicular, there are 2 other cable railways in Italy for tourists to take: the Ariston Cable Railway that operates between Livorno and Mount Morello and the Mendatica-San Lorenzo di Sebato Cable Railway which is located in Trentino Alto Adige. The funicular is known as one of the oldest tourist attractions in Europe, spanning over a century and still one of the best ways to explore Como.
Taking the Funicolare Como-Brunate is one of the top things to do in Como Italy, especially if you want to see city views from above. The beautiful views that you'll catch along the way are some of the best things to see in Como.
The funicular was originally built in 1894 by Swiss engineers and was powered by water ballast.
Volta Temple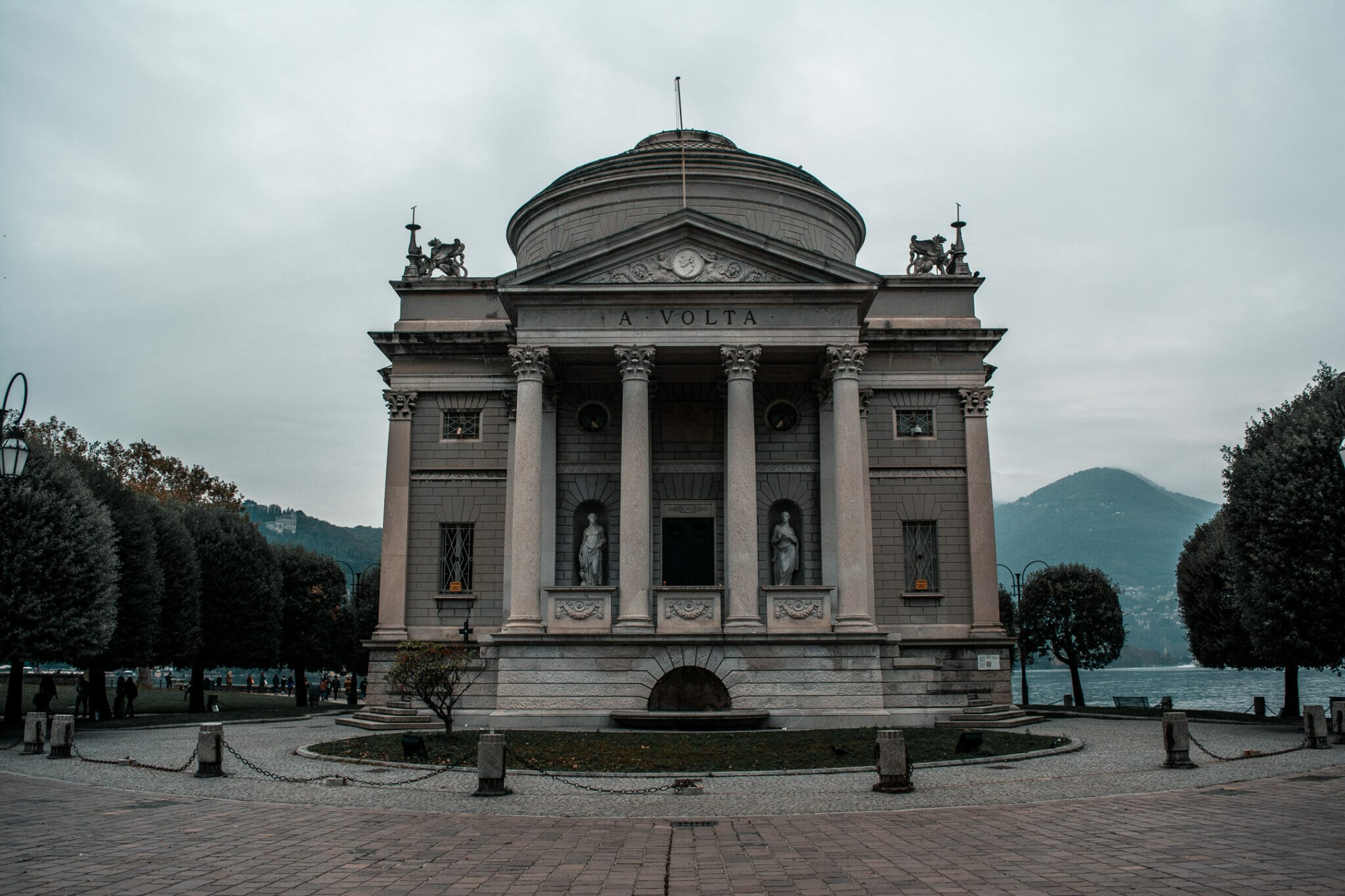 Offering panoramic views of Lake Como with the alps in the distance, Volta Temple is a must-stop for anyone visiting Como. The temple was built in honor of Alessandro Volta, who invented the battery. You can see his bust and enjoy a picnic on the grass around it.
The temple was erected in 1831 by the physicist's friend Giovanni Battista Ceriana, who had been inspired by the Temple of Vesta in Tivoli, Italy. It's one of many neoclassical monuments found around Lake Como.
Volta was born in Como in 1745 and spent most of his life here until he moved to Milan to become a professor at the city's university. He died in 1827 at age 82 in Camnago near Como.
How to Get There
You can get to Volta Temple by taking funicular railway up from Via Sant'Abbondio. If you're driving, there is parking space nearby at Tempio Voltiano or at La Punta Spartivento station, both offering good views over Lake Como and Switzerland's Alps in the distance.
Broletto Palace
Broletto Palace is one of the most important monuments in Como and a symbol of the city's history. Located in Piazza San Fedele, this palace was built in 1215 as the seat of the people's government (Broletto means "meeting place for the people").
The building was altered several times during its history. In fact, it was almost completely destroyed by fire in 1350 and rebuilt in 1356.
The Broletto Palace has a neo-gothic façade and an atrium with cross vaults. The highlight of this monumental complex is the Loggia delle Grida, which dates back to 1381. This loggia is decorated with statues depicting members of Como's ancient families and used as a balcony where judges chastised criminals after they were sentenced to death.
Circolo Velico Como Sports Club
There is possibly no better way to explore Lake Como and see the beautiful landscape the encompasses this body of water than to take a boat ride from Como itself.
There is a wide range of tour companies and boat operators that provide trips on the lake.
You can take one way boat rides from Como to visit some of the coastal towns such as Cernobbio and Bellagio, or alternatively you can take a scenic boat ride that simply travels on the lake while a guide points out different landmarks and explains the history of this region.
Which either type of ride you choose, you are sure to see the majesty of Lake Como up close and personal.
Piazza Vittoria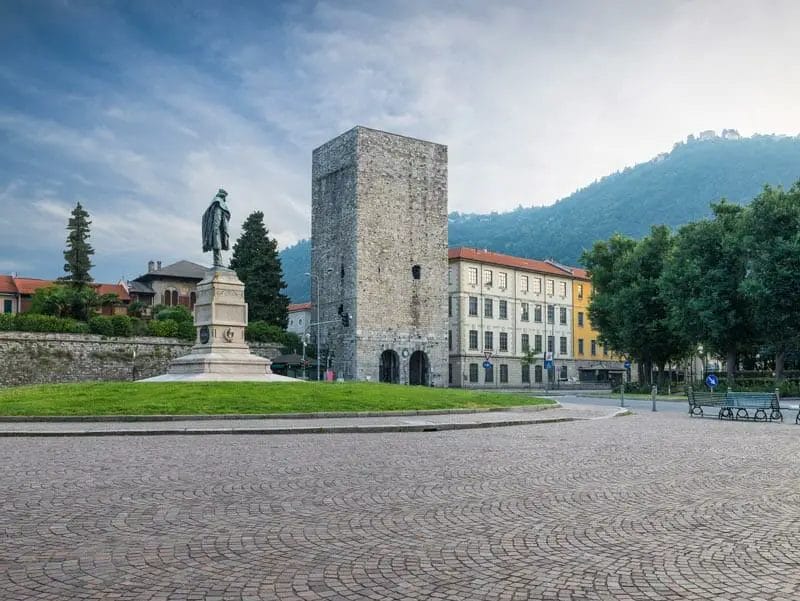 One of the most loved by tourists, Piazza Vittoria is one of the main squares in Como. It is located a few steps from the lake, from where you can enjoy an enchanting view.
The square is located in the heart of the city center and is home to important buildings such as the Broletto, the Palazzo Olginati and the Palazzo del Comune. The first two are private buildings but can be visited on special occasions (for example during open days).
In the middle of Piazza Vittoria there are some benches around a tall and imposing obelisk with a statue of Liberty on top. This monument was built at the end of World War II in memory of those who died during the conflict.
The square hosts numerous events throughout the year, such as markets and fairs, but also concerts and other activities in summer. Around it there are many bars and restaurants where you can taste typical dishes while admiring a unique landscape.
Climb San Primo
For spectacular views over Lake Como, head up San Primo mountain, located on the eastern side of the lake. With an altitude of 1,579 metres, it's not the tallest mountain in this area, but it does offer a great view. You can reach it by driving along the ridge road above Lecco and then you can either hike or drive further up to its peak. The trailhead is located near the village of Pasturo and it takes about 3 hours return from here. There are two routes you can take – one follows a steep path through some woodland and the other passes through an alpine pasture
Relax by the Lake
Honestly I seriously enjoyed my time in Como just sitting next to the lake and enjoying the beauty of the place. It was so peaceful here no noise and you could just enjoy the beautiful site of the lake and the colourful houses around them.
Take the Food Walking Tour
Gain an introduction to the gastronomical wonders of Como on a guided walking tour through the charming downtown area. Taste as many typical dishes in at least five stages. Discover the true essence of Lake Como.
Taste the very best products Como has to offer
Discover the city from a different perspective
Visit historic eateries, modern cafes, and trendy restaurants
Try an array of traditional delicacies and drinks
Winery Tour with Wine Tasting
Discover how fine wine is made at a typical winery on Lake Como. Enjoy samples paired with local produce during a tasting with a friendly winemaker.
Discover the secrets behind wine-making
Spend an enjoyable day at a prestigious winery
Admire breathtaking views of Lake Como
Meet the winemakers and learn all about wine
Taste fine wine paired with local delicacies
Where can you stay in Como Italy?
Top 5 Hotels in Como Italy
You can search more below
These were the top things to do in Como Italy. Do let me know if you enjoyed doing something else in Como which was not a part of this list.
If you are exploring options and more Travel Guide for Italy then you can check out further post below
Get your Notion Travel Planner Template!
Embark on your next adventure with the Wanderlust Planner – Notion Travel Planner Template – Notion Travel Planner Template for 2023 (chasingwhereabouts.com), the ultimate Notion Travel Planner Template. Organize your wanderlust-fueled dreams and turn them into unforgettable journeys. Whether you're a seasoned globetrotter or a newbie explorer, this template has you covered.
Frequently Asked Questions
How to Reach from Milan To Como cheap?
The best and cost effective way of reaching from Milan to Como on budget is taking the train from Milan Central station to Como Station which would cost you around 5-6 Euro.
Is Como Town worth Visiting?
Well if you are already Exploring Milan and you are done with the city you should find some time to take the Day Trip to Como to relax and enjoy the silence of this peaceful city.
Which are the best Restaurants for Como Italy?
Agriturismo Sorsasso
Ittiturismo da Abate
Antica Trattoria del Risorgimento
La Colombetta
Agriturismo La Selvaggia

Are couple of good Italian Restaurants in Como Italy.