Wondering if the iVisa service works alright or not then in this post you will find the Honest iVisa Review and based on that you can decide about the service.
iVisa (iVisa.com) is an online passport and visa service that was created when the company founders had to contend with the arduous visa application process during the planning phase of their trip to India. In hopes of eliminating confusing paperwork, reducing trips to embassies and consulates (potentially far from home), and streamlining the entire visa application process, iVisa was born.
To cut a long tale short, if you're planning a vacation and have checked out the government's visa website only to discover a tremendous hassle on the other side, iVisa's services may be your saving grace.
So of course iVisa is a legit service and not a scam.
What does iVisa do?
For nations with visa-restricted entry, iVisa issues visa online. To secure a visa for many countries, you must either visit an embassy or consulate or apply upon arrival, both of which are time-consuming. This process is bypassed with iVisa, which provides you with a visa online in a fraction of the time.
Your application will be processed faster with iVisa than anywhere else.
You may ask what is eVisa?
An e-Visa is a visa that is electronically linked to your passport and is issued online. It is a printable official document that must be printed one-sided on blank white A4 paper. Where traditional paper visas are required, iVisa also provides these.
Is iVisa a legitimate company?
Yes. The company has issued over 500,000 visas since its inception in 2013, and is rated as Excellent on Trust Pilot, with 33,000 reviews. The company also provides health declarations, invitation letters, and passport photos.
What is a health declaration?
These days you are also able to get the health declaration online using the iVisa. A health declaration is a formal document that confirms you are not suffering from symptoms of COVID-19 or any other contagious illness. Many countries currently require this document as part of the entry clearance process.
How long is the application process?
On average it takes around 5 minutes to apply on the website. The process is as follows:
Select the country you require a visa for.
Select the type of visa and follow the instructions.
Select 'Apply Now'
Fill in the application form as instructed.
Pay using a Visa card, MasterCard or other debit card.
Once approved you will be notified by email. You can then download and print the e-Visa from your account on the iVisa website.
You must show your printed e-Visa to the immigration officer at the port of entry.
What if I make a mistake on my application?
The iVisa immigration specialists do check applications for mistakes and may spot one prior to submission, in which case you will be notified. However, the onus is on you to make sure your details are correct. You cannot change your application once it has been submitted to the embassy of the country you are visiting.
How fast will the visa be issued?
The speed of the process depends on the requirements of the country you are applying for.
For example, utilizing the Rush option, an e-Visa for Australia (ETA) or Turkey can be processed in 15 minutes, whereas an India Tourist Visa takes at least 24 hours. Your application form will tell you how long it will take to process your application.
For visas that typically take longer, such as the UK Visit Visa, you can choose between a few processing options, as follows:
Standard Processing: If you have a tight budget, this is the most affordable service.
Rush Processing: A faster service for those in a hurry.
Super Rush Processing: A premium service that puts you at the front of the queue.
iVisa Review – How much does iVisa charge is it affordable?
Let us talk about this by taking an example, so if you are from United States and you want to to go to Turkey you will need a visa which is going to cost you around 50 Dollars as Government Fee and on top of that you will have to pay the service fee for using the website. But yes the process is fairly easy.
iVisa Reviews
iVisa.com has a current total of 33,053 reviews with an 84% excellent rating and an 8% great rating. Only 5-star reviews are shown on the iVisa.com home page which makes sense because they are handpicking and selecting the reviews as testimonials to show on their page.
Let us dig in further about the (2%) Average review (1%) Poor and (5%) bad review.
If you take the time to study the Average, Poor, and Bad reviews, you'll see a recurring reason for the low-rated reviews.
This was a interesting read, people were having trouble in searching their year and then selecting the date because you had to do it using the calendar only. And for someone who is 70 years old it is going to take time.
Visa didn't arrive in time for travel
Many times there were delays with government processing. Consequently, make sure you have always a time cushion. I would still want to keep more than a week time for applying for visa.
Traveler information entered incorrectly
iVisa.com processes exactly as the traveler has entered the info. We mentioned it before, we might mention it million times: Always check your data before submitting your personal information
Here is something which I perosnally think off, I would really appreciate if I could get the cost upfront which needs to be charged by the iVisa service however it is not displayed upfront on the website.
You will have to enter your complete details and all the information and then they will show you their service charges. But this is not a concern because in the end when you are done you can see the complete price which would be charged to you.
iVisa Review – How to Apply: eVisa is it difficult?
The process is divided into 3 easy steps and it doesn't take much time, all you have to
Fill the online applications form.
Recieve document via email
Enter Destination.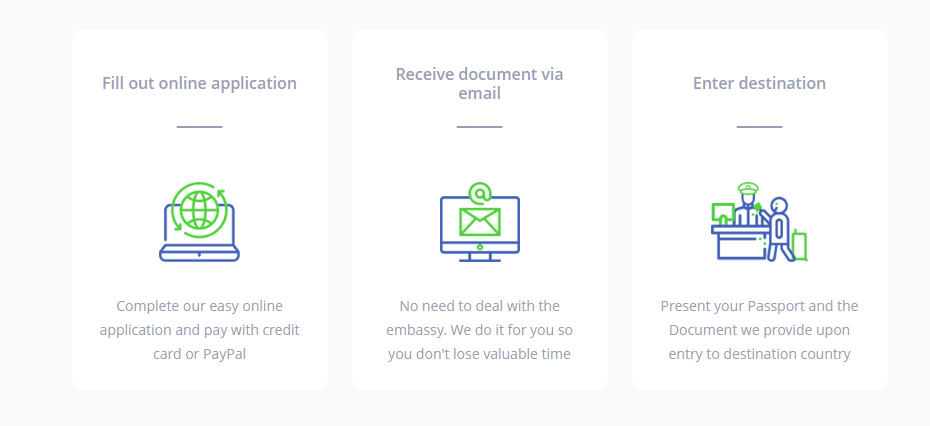 Check if you need visa?
Visa requirements sometimes change, so you should check your government's state department website for the latest status.
You can easily find out if you need a visa for a particular country by visiting your nation embassy and/ or consulate.
The embassy website has normally all the information:
what is required
links to necessary forms
where to apply
how much it costs
Likewise, you can also visit iVisa.com and use their visa checking tool. This tool is straightforward to use.
Perks of Using iVisa

Apply Completely Online with iVisa
One of the key advantages of using iVisa to apply for an overseas visa is that you can complete the entire process online using a single application form. Gone are the days when you had to juggle many forms and risk forgetting something important.
Simply provide your identification and required documents to iVisa, and your visa will be processed in a single form. By streamlining and simplifying the application procedure, the most difficult component of obtaining an international visa will be gathering personal documentation rather than dealing with government red tape.
Simple Website Navigation
iVisa has everything structured out for easy navigation from the moment you enter the site. Whether you're traveling to India, China, Brazil, or the United States, iVisa can assist you with practically every visa application.
Choose where you're from and where you want to travel, and iVisa will explain all you need to know about getting a visa, when it should be accepted, and how much money you'll need to go to your destination. That way, you'll know what you're getting yourself into before you go too far.
iVisa Helps Process E-Visas and Paper Visas
There are two sorts of visas accessible these days, and iVisa serves both of them.
To begin, you can process your e-visa with iVisa, which eliminates the need for a physical stamp on your passport. Instead, your authorized visa is electronically linked to your passport, so when authorities scan your passport at your final destination, they will notice that you have the correct visa.
However, not all nations have implemented e-visa systems. You'll still need a written visa and a physical stamp in your passport to visit certain areas, which iVisa will assist with.
Guaranteed Approval with iVisa
One important benefit of submitting a visa application with iVisa is that they guarantee acceptance. If the government where you're applying rejects your application after you submit your documents, iVisa will repay you in full.
Furthermore, if you are dissatisfied with iVisa's service for any reason, you will be refunded your money. In the unlikely event that iVisa makes a mistake with your application, the same applies. You'll be reimbursed for their errors as well.
If you need assistance obtaining a visa, iVisa is a no-brainer with its risk-free service and guaranteed acceptance and satisfaction.
The fact that your data is reviewed by immigration experts allows iVisa to make this commitment. While you won't always have a migration lawyer on your side, it's pretty much the best assurance you can get without those exorbitant attorney fees.
Refund Policy for iVisa
So one important thing to know about is the refund policy for the iVisa and you have to make sure that you read this in detail because it is not always 100% of the cost which you have paid.
The refund policy is dependent on the status of the order currently.
For travel documents such as eVisas, Visas, Health Declarations, Arrival cards and other travel documents:

Status is "Application in Review", "Incomplete" or "In Progress": 100% refund of the iVisa processing fees, in case we have not yet worked on your order
Status is "Application in Review", "Reviewed application", and "Actions Needed": Up to 80% refund of the iVisa processing fees, in case we have already worked on your order.
Status is "Scheduling Appointment": Up to 50% refund of the iVisa processing fees
Status is "Waiting for Government", "Appointment Scheduled"or "Order Closed": Not refundable
Requests for refunds can only be made within 6 months of your order date.
Any government fees that have been paid for an application are not eligible for a refund.
If your order includes the Denial Protection addon, you will be refunded 100% of your order (including Government Fees, iVisa Fees, and any addons) automatically if the Government rejects your application. In the unlikely event, the Government does deny your application and you are not approved for the intended Travel Document, refunds will be processed automatically and you will be notified.
Cons of iVisa?
iVisa Boasts Exceptional Customer Service
It's natural to be nervous about applying for a visa if you've never done it before. There's a lot to do and even more that can go wrong on the to-do list.
The last thing you want is to be delayed at an airport because you filed for a visa on your own and received it improperly.
You'll be kept informed every step of the journey with iVisa customer care. You can check the status of your visa online at any moment after you've applied.
Furthermore, you can always speak with a representative directly from their website, who will be happy to assist you with any questions you may have.
But one thing which you would miss is an actuall calling number in case you want to talk and know the actual status of your application.
So iVisa is really an good service if you don't want to take the pain of applying the visa on your own and just want to sit back and relax after filling the form and let the iVisa team do their task in order to get you your visa. Do let us know if you liked our iVisa Review.
Wondering about travelling to Europe this summer then check out our post for Places to visit in Europe in Summer. We have shared the compilation of the top places which are being explored from people in United State to Europe.
Here is table from top places to travel from United States to Europe and if you need a visa and what would be the cost for the same
Frequently Asked Question
Is ivisa.com legit?
Yes, ivisa.com is a safe and reliable website.
Can I track my application on iVisa?
Yes. When you place an order you are given account details. You can use these details to login to your account and see the status of your application.
Couldn't I just apply by myself?
Without a doubt. The idea behind iVisa is that you pay a fee in addition to the visa fee to get your visa faster and avoid the trouble of going to an embassy or consulate or dealing with complicated websites and unclear information.
The latter is advantageous for those whose first language is not English, as the iVisa website is available in nearly every language.
Do I get a refund if I'm refused a visa?
Yes. iVisa refunds their processing fee. However, the government of the country you are applying for will not refund the visa fee. This is standard practice. We have talked in detail about this before.