If you are looking for the best free meeting scheduler and you are just starting the research then in this post we will be talking about that.
Scheduling a meeting is always a combursome task and then there is the thing that you have to send out of the email let it organize in your calendar and lot of task here and there around the meeting.
In movies, scheduling is as easy as "see you around 8." In reality, the process is more intricate chaos of texts, emails, and calls back and forth. Meeting schedules are there to take the hassle out of this. Now we know as a Travel Blogger you will get into the situation for launching some business in which you would need tools for scheduling meeting.
So why not, Spend less time prepping meetings and let the scheduling software for meeting do you job for you.
Scheduling software typically lets you connect to your own Calendar and automatically identify your busy times and when you're not, and let other users choose the time of your schedule that is most suitable for their needs. You may think Doodle or Calendly, and you're right. That's the kind of app we're discussing but there is some bonus for the readers of Chasing Whereabouts so keep reading.
We looked through a myriad of scheduling software to identify the one that could assist you in taking the stress out of scheduling meetings. These are the top eight tools we could find.
The 10 top meeting planners
Dotcal free and the most customaizable meeting scheduler.
Calendly to let other people schedule meetings with you.
Doodle (We will not talk about this here because it is a paid plan entirely)
Calendar to make appointments on the form of a calendar app that is free
CalendarHero for scheduling multiple meeting types
ScheduleOnce for a free meeting scheduler
Rally to quickly pick the date
When2Meet to host meetings without revealing your identity
Google Calendar for the Calendar you already have
Arranger for invitations to meetings that are detailed
SavvyCal Scheduling software both you and your clients will love
After you have selected your preferred application, Make the most out of it by automating the scheduling of your meetings.
What is the key to a successful time-slot planner?
What feature to look for in your free meeting scheduler?
Let's look at the most important aspects which decides whether the meeting scheduler is for you or not:
User-friendly. There are two types of people who use an event scheduler. The event's organizer and those who respond to it. A great meeting scheduler must be simple to use by both groups.

Integrating with different services or apps. Primarily, you'll have to connect the meeting planner to your calendar app, and the more calendar options that an application supports, the more efficient.

The ability to set up automatically video calls automatically. Being able to quickly jump on video calls with other people is now more crucial than ever. Many meeting planners are able to not only include events in your schedule but can also create videos via the most popular platforms like Zoom, Google Meet, and Microsoft Teams.

Reminders for appointments and follow-ups. While a meeting scheduler could be integrated into your agenda, it's not guaranteed that your attendees will receive a reminder to arrive at the right time. A good meeting scheduler will be able to notify all attendees that the meeting is scheduled, and some let you automatically send follow-up emails with a summary of your event.

Value for the price. Usually, the main features of the meeting scheduler are free for a specific number of users. However, extra features like reminders setting up video calls, automated and even the ability to schedule multiple meeting times will become a part of a monthly subscription. We assessed the amount they were worth the price of their plans that are paid.
Best meeting scheduler for letting others schedule meetings with you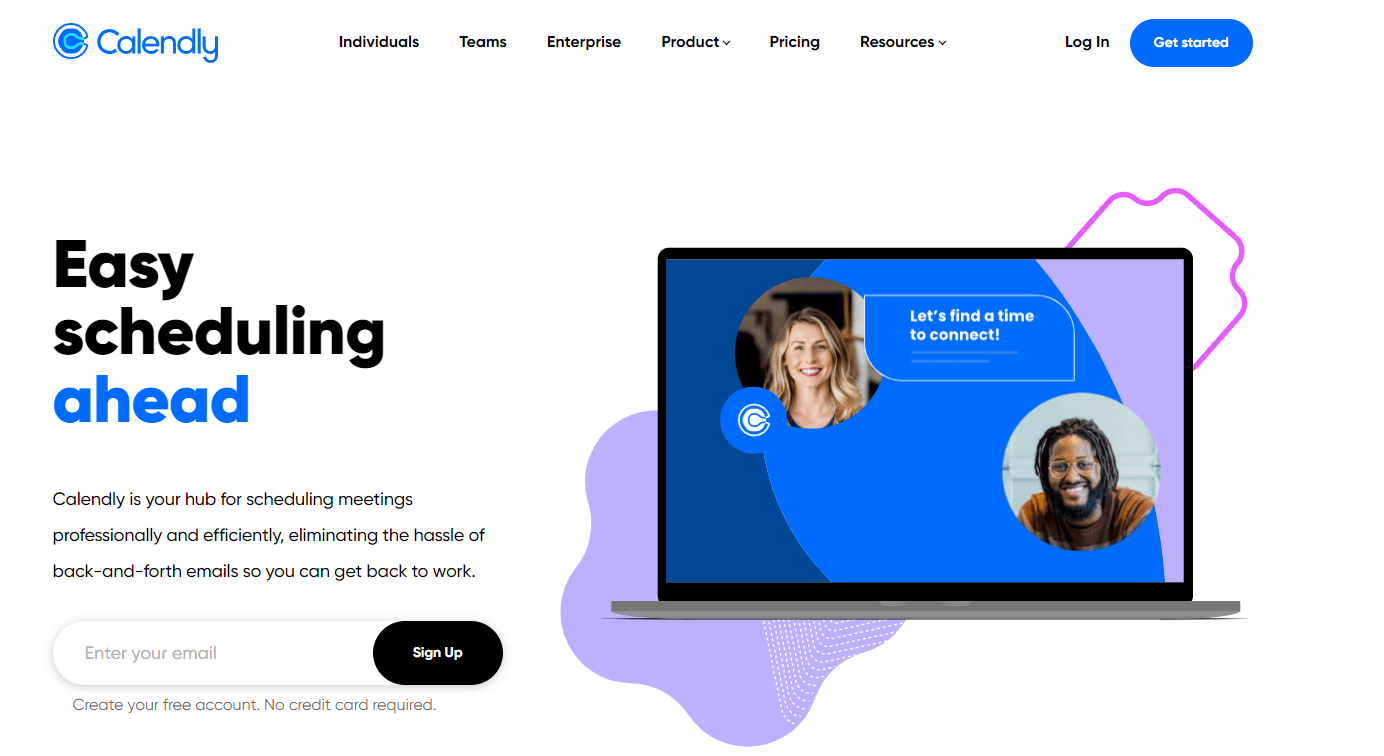 Calendly allows other users to schedule meetings with you by displaying your availability and presenting them with different kinds of meetings they can arrange with you. It's a great application for those who receive lots of meetings requests and requires a quick but concise response.
The first step is to give Calendly information about your availability by connecting with your personal calendar (Google Calendar, iCal, Microsoft Office 365, or Outlook). You then create different meeting options for the kinds of meetings you provide that you can offer, such as a "30-minute telephone meeting" or "initial meeting with the client."
Calendly provides a myriad of options for adding details to each meeting you provide. Then, you can provide a link to those who want to set up meetings with you, so they know the times you're available and make requests for meetings that they need. The free plan only allows only one kind of meeting; however, once you upgrade to the premium plan, you are able to organize as many kinds of meetings as you'd like.
Calendly integrates all confirmed appointments with your Calendar and allows you the possibility of creating an event that is visible to the calendars of your invitees too. There are tools that can set up an automated reminder email to the attendees, too.
While Calendly is great for scheduling meetings for teams or individual members of an organization, its customized Calendar, and outgoing links are ideal for connecting with customers, clients as well as colleagues. Calendly offers a variety of integration options that include Salesforce, HubSpot, Zoom, GoToMeeting, and Zapier; however, you will have to sign up for an annual subscription to enjoy the full benefit here.
Create Zoom meetings to create new Calendly events
Zoom and Calendly
More details
Create Mailchimp subscribers from the new Calendly invitees
Calendly + Mailchimp
More details
Price: Free with limited options; paid plans starting at $8/month
Dotcal
If you are aware about Canva then you are going to absolutely like this meeting scheduler. Like you can design your graphics on Canva or Canva alternative apps you can do similar things on Dotcal but yes it is a free meeting scheduler tool. So your meeting scheduler page could have the touch of your art and look and feel which you would like.
Dotcal is only design-first scheduling platform that gives individuals and businesses the ability to create beautiful booking pages for all of their scheduling needs. Dotcal replaces tiresome back-and-forth scheduling emails with a scheduling experience that is truly delightful for everyone.
I personally like the Boho chic template it is subtle and the customization options is great for all the of them.
Your first booking page is free forever, and it's only $10/month to upgrade to unlimited booking pages. And here is something for the Chasing Whereabouts reader if you are planning to get the Paid plan from dotcal then you can use chasingwhereabouts50 to reduce the cost by 50% for the first six months.
And yes you have click on the link below to get the paid plan and use the coupon code because it is specially for Chasing Whereabouts readers.
The best free meeting scheduler is that it integrates into calendar apps.
Calendar (Web, iOS, Android)
Calendar is more than just a meeting planner. It's a full-featured calendar application. It has mobile and web versions, and the entire user interface is very similar to Google Calendar. It also comes with scheduling features for meetings, such as making time slots that can be customized and sharing links to bookings.
But, while Google places its top tool for scheduling appointments behind paywalls, Calendar offers them free of charge. You can set up as many as two-time slots for scheduling that you can modify in the free plan and then connect the app to one of your calendars.
The reason Calendar is different from the rest is its comprehensive statistic section. It keeps track of all your meetings and reveals how trends emerge. In addition to the obvious data such as how long you've been in meetings during the last week, day, and month or the entire year, it also tracks attendance statistics, revealing how many people rebuffed or skipped a meeting.
It also highlights the people you're most likely meetings with. This is a feature that can be extremely useful in the pursuit of greater engagement. It's all contained in a tidy overview section which is attractive and informative.
Utilizing yet another calendar application could be a bit stale. If you're looking to look at your meetings thoroughly and learn more about schedules for meetings without spending cash, it's the right place to be.
Direct messages are sent in Slack to notify you of meetings that are set in the Calendar.
Calendar + Slack
More details
Make Google Sheets rows from newly scheduled Calendar events.
Calendar and Google Sheets
More details
Price for Calendar: Free; from $10/month to connect more calendars as well as schedule slot time slots
Best meeting scheduler to plan different types of meetings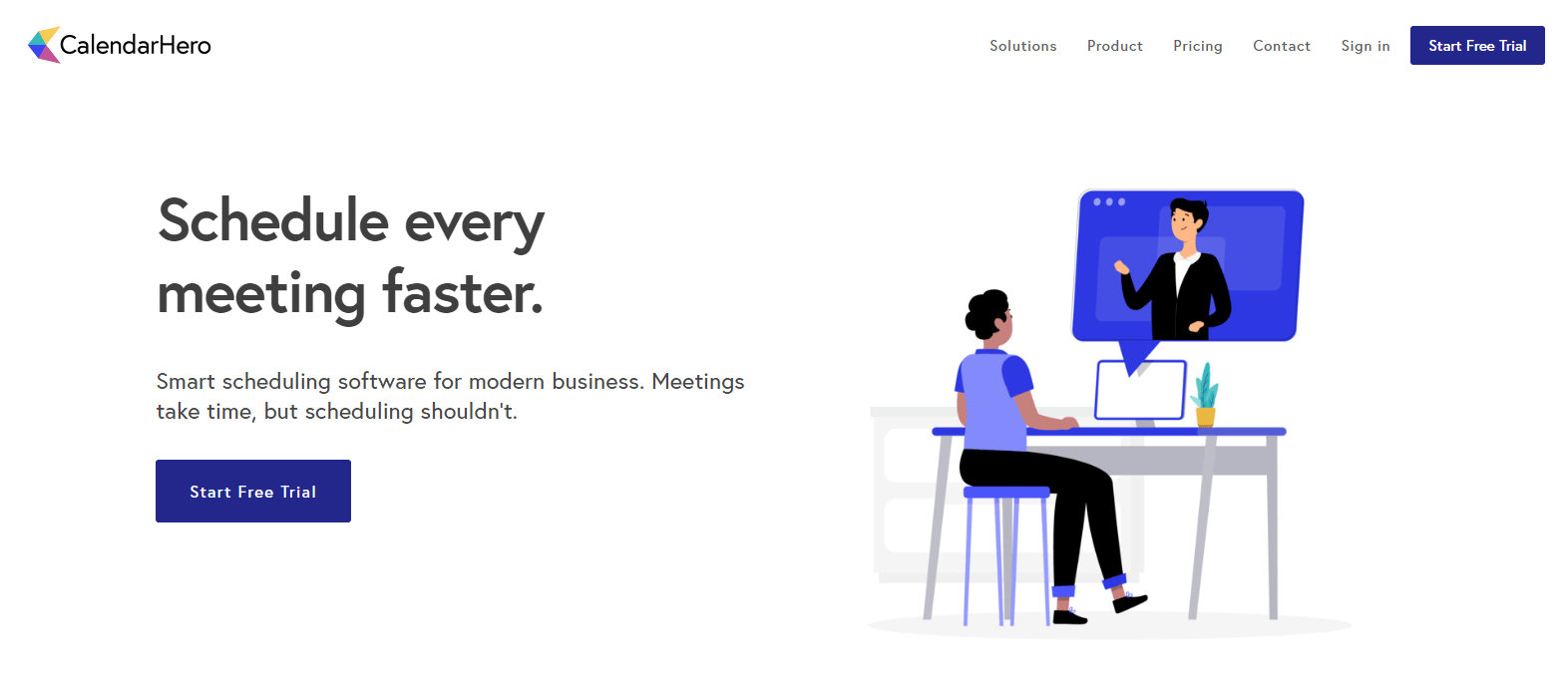 CalendarHero (formerly Zoom.ai) It's like Calendly, Calendly, Dotcal. It allows you to create various meeting types with different durations and share links so participants can set up appointments with you. You can also integrate it with your Calendar, so it will automatically know when you're available, or you can manually define the availability.
The service is also equipped with options to personalize your events, such as adding location information (if you're holding your meeting in a real place) and video-conferencing information (if you have an appointment on the internet). Suppose you're using Google or Microsoft single sign-on to sign in to CalendarHero, and you have a single sign-on to your CalendarHero account. In that case, it will automatically set up video chat sessions without additional configuration.
When you sign up for one of the paid plans of CalendarHero, starting at just $8/month, you can avail of additional options like the ability to collect payment on your events and receive more than two reminders for meetings every month.
CalendarHero offers a lot of similarities with Calendly; however, it has more meeting types built into the free version and comes with additional options for customizing the details of your meetings. If you're looking to step up to manage all of the different kinds of meetings you have to organize, CalendarHero is an excellent alternative.
The company adds subscribers to Mailchimp from the new CalendarHero meeting request.
CalendarHero + Mailchimp
More details
Send SMS messages to the upcoming CalendarHero Meetings.
CalendarHero
More details
CalendarHero Prices: Free with limited options, paid plan starting at $8/month
The recipient bears the load in the majority of scheduling tools. Both parties may quickly identify the optimum time to meet thanks to SavvyCal. The sophisticated features that let you maintain control over your calendar will win you over. The personalized scheduling experience will win them over.
They do offer a free plan where you can test out the feature and plan the meeting on other peoples scheduling link. If you wish to schedule a link for your own then you will have to take 12 $ plan for the same.
You can checkout more about their plan below
Best Free Meeting scheduler
Okay I really want to include Dotcal again in this category because by far I really love the free functionality of this utility.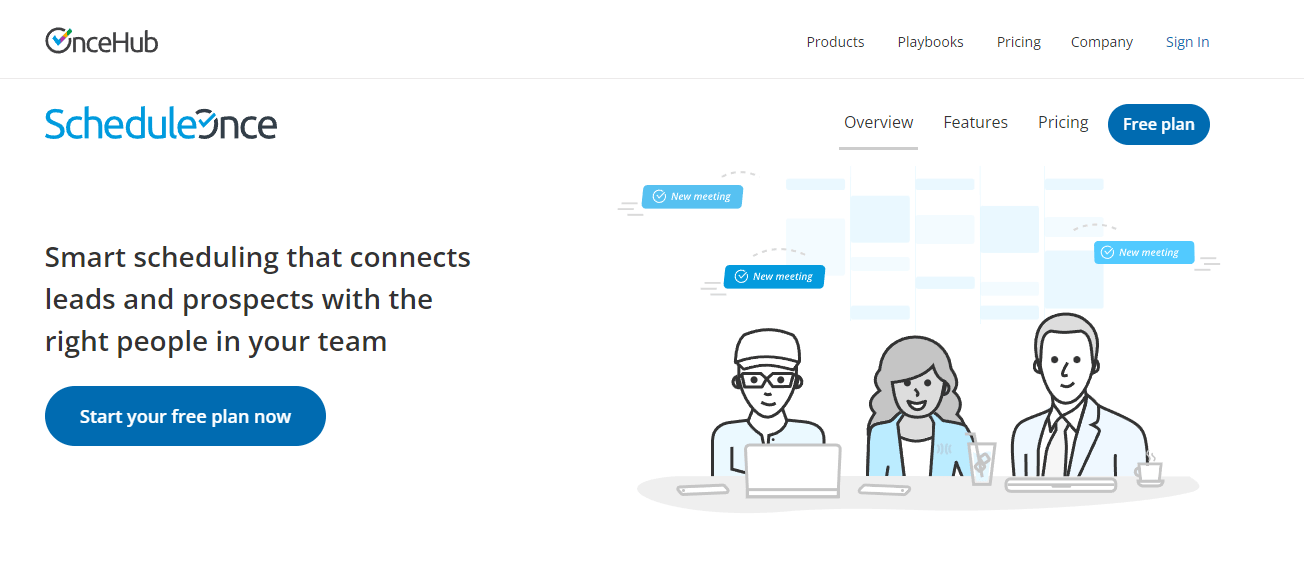 ScheduleOnce, a product from OnceHub, allows you to make multiple meeting types, including the standard 1530-, 30, and 60-minute meetings. You can share one link for guests to use to set up meetings with you. After that, they can choose the date and the available times to make an appointment.
It's certainly comparable to most of the other apps we tried, but the thing that makes it stand out is that it comes with one of the most significant free tiers of all the apps that we examined. It's free for up 25 users. It's also possible to make unlimited types of meetings and meetings and also connect to various video conference services.
The application is compatible with Google Calendar, iCloud, as well as all Microsoft's calendars, including Exchange, Outlook, and Office 365. Video conferencing is supported. It can also be connected via Zoom, Google Meet, Microsoft Teams, GoToMeeting, and Webex Meetings. Apart from having more diversity in its video services than the other apps we have tested, it also comes in a free version.
If you decide to upgrade to one of the paid levels, you'll gain unlimited users and integration with tools such as Salesforce and Salesforce, as well as the capability to alter the branding of the pages for your meeting schedules. If you're at this point, you're likely considering business use cases.
Email Zoom meeting links to customers whenever new bookings are made on OnceHub.
OnceHub + Zoom
More details
Create HubSpot contacts using new OnceHub bookings
HubSpot + OnceHub
More details
Schenck Price: Free for 25 users. Pay plans start at $9/month per user for a license.
Best meeting scheduler free to quickly pick an appointment
A show of hands Which person is available on Monday? Do you have availability on Tuesday? That's the idea behind the simple website application Rally–yes, it's got three letters, which can help you and your colleagues discover a mutually agreeable time to spend time together.
If you're searching for alternatives to Doodle, Rally is an excellent place to begin.
There's a graceful simplicity to a tool that can do one thing and does it with ease. Rally lets everyone, even the person who created the poll–submit their responses completely anonymously. It's not necessary to set up accounts, and only the person who is organizing must provide their email address. The site guarantees that the information you provide is "never utilized for commercial purpose," and the project is open-source, which means you can look at the source code.
You can enter some suggestions of when you'd like to meet and invite people to take part in your poll by entering their email addresses or by sending them an email. Each time you make a poll, there's a discussion area below the poll where anyone is able to leave comments.
The primary drawback to Rally is that it lets you select dates, not dates. It does not have an advanced management system or scheduling tools, or even the ability to connect to your Calendar. However, sometimes it's better to be simple. When you or your group simply need to arrange a movie evening, and you're looking for a way to do it, this is the route to take.
Price on Rally: Free
The most effective meeting scheduler that allows you to schedule meetings without revealing your identity
If2meet When2meet isn't something to look at. Still, if you're looking to arrange a meeting with others without giving one single piece of personal data, there aren't better alternatives available on the internet. The tool allows you to anonymize an event with time and dates, then send the link to the event to anyone.
If another person clicks that link, the user will be brought to the event's page, where they'll be able to enter their name — or any name if they'd like to be extra careful and note when the time slots are available and if they're in. The moment you hover over a time slot will reveal which individuals are available and which aren't.
However, this total privacy means there's no way of confirming the authenticity of anyone who responds. The person they claim to be. If you're planning a party with acquaintances, it's fine, however. Users can, however, enter the password in conjunction with their name to ensure they, only they, are able to return and alter their passwords at any time.
The service is completely free and has an option to donate for those who want to donate a few dollars to the creator.
If2meet Price: Free
Your best meeting scheduler that you already have
You already own a Google account, like every other person in the world, that provides you with access to one of the easiest scheduling tools available: Google Calendar. Once you've created an event, simply add the attendees and then click Select an appointment time–then Google will do all the work. It will display the calendars of each guest side-by-side. It will provide suggested times and let you know how many members of the group are able to make the slot. This is the only option you'll need to plan meetings with individuals within your business.
Google has recently also stepped up its game with more sophisticated scheduling tools. Its newly launched Google Workspace Individual plan–which begins at just $10 per month–features advanced scheduling tools, like the ability to create a booking page to share with your friends. Anyone who has an email address makes an appointment with you that is displayed directly on the Calendar of your Google Calendar. No third-party services are required.
Google Calendar is tightly integrated with other Google apps. And since Google likely already has all your contacts and important information, it doesn't pose any additional security threat. However, the most appealing thing is that you won't require an additional app since Google Calendar is already available.
If you use Google Calendar, you can perform tasks like creating automatic to-do list items when you're planning an upcoming meeting or receive notifications on your chat application when the next meeting is set to begin. Find out what are the best well-known and effective methods to automate Google Calendar.
Create brand new Trello cards using new Google Calendar events
Google Calendar + Trello
More details
Receive Slackbot alerts for upcoming Google Calendar events
Google Calendar and Slack
More details
Google Calendar pricing: Free for basic scheduling. $10/month to use Google Workspace with appointment tools
Best meeting scheduler app for detailed meeting invites


The issue with a lot of these apps for scheduling meetings is that they typically have to access your personal Calendar. This can be a privacy issue. Some of the applications we tried even demanded permission to remove whole calendars. Although this is a common practice for certain services it's entirely normal to be uncomfortable making that decision. Arranger agrees and provides a unique guest mode that helps in bridging that gap of confidence.
Visit the Arrangr website Click Start Today (Free), and Arranger will ask you if you'd like to set events in guest mode. Then, you'll be guided by a wizard that'll assist you in selecting the details of your event. This includes the people you'd like to invite, which times are available, and where the event is going to be held (online as well as in-person).
You'll still need to input an email address once you're done. It's not the safest software available. However, it has a lot of options for customizing every aspect of your meetings. The free version of the service allows unlimited meetings in 1:1 format and limitless group sessions (for more than 15 people), and one booking page.
Paid tiers begin at $4/month and provide more booking pages as well as more participants for group meetings. Together with the Guest Mode, it creates Arrangr among the top accommodating services for those who are new to the service and are looking to get comfortable using an appointment scheduler more often.
Pricing for Arranger: Free, from $4/month for additional group meeting recipients as well as more booking pages
Improve meetings
A good meeting planner can help you add meetings to your Calendar in a short time and effectively. It can help keep your production process going by automating the scheduling process as well as automating the meeting actions.
These were the list of the best free meeting scheduler to help you smooth your workflow as a travel blogger. We also tried to give you options if you have been looking for Calendly Free Alternative all along.
We perosnally are using the the paid plan for Dotcal as we really like the process of customization of our booking page.
Get your Notion Travel Planner Template!
Embark on your next adventure with the Wanderlust Planner – Notion Travel Planner Template – Notion Travel Planner Template for 2023 (chasingwhereabouts.com), the ultimate Notion Travel Planner Template. Organize your wanderlust-fueled dreams and turn them into unforgettable journeys. Whether you're a seasoned globetrotter or a newbie explorer, this template has you covered.