If you're planning on traveling to Europe anytime soon, here are some things you need to know in order to make your trip go smoothly. From airport transfers to currency exchange, we've got you covered.
This particular guide is jam packed with Europe Travel Tips which is going to come in handy for you if you are planning to visit Europe next.
Europe Travel Tips
Check Visa Requirements
When planning a trip to Europe, be sure to check the visa requirements for your destination country. Depending on your nationality, you may need a Schengen visa in order to travel to certain countries within Europe.
If you're a U.S. citizen, you do not need a visa for most European countries, including the United Kingdom, Ireland, and Scandinavia. However, there are a few exceptions, so it's always best to check with the embassy of your destination country before you travel.
Like if you are planning to visit to Turkey you are going to need a Travel visa and you can check more about that here.
For non-U.S. citizens, visa requirements vary depending on your nationality and the country you're visiting. Be sure to check with the embassy or consulate of your destination country before you travel.
You can also check on iVisa if you want because they provide and end to end service for applying visa. We talked about iVisa in detail on our iVisa Review post.
Travel Europe in the Off Season
Traveling to Europe in the off season has its perks. For starters, airfare and accommodation rates are typically lower. You'll also find that there are fewer crowds at popular tourist destinations. Here are a few tips to help you make the most of your off-season European vacation:
Plan your trip around major holidays. Many businesses in Europe close down for extended periods during Christmas and New Year's, so keep that in mind when choosing your travel dates.
Pack for all weather conditions. The weather in Europe can be unpredictable, even in the off season. Be sure to pack a jacket, sunscreen, and an umbrella – just in case!
Take advantage of special events and festivals. Many European cities host festivals and other events during the off season, which can be a great way to experience local culture.
Use Budget Airlines
Europe is a continent full of culture, history, and natural beauty. It's no wonder that so many people want to travel there. However, Europe can be a very expensive place to visit. That's why budget airlines can be such a great option for travelers.
There are a few things to keep in mind when using budget airlines, though. First, make sure to book your flight in advance. Budget airlines typically have limited seats available, so you'll want to make sure you get one before they're all gone. Second, be aware of hidden costs. Many budget airlines will charge for things like baggage and seat selection, so be sure to read the fine print before booking your flight.
Finally, don't forget to enjoy yourself! Europe is an amazing continent with so much to see and do.
Travel by Train
Whether you're traveling across Europe or just between countries, trains are often the best way to go. They're efficient, comfortable, and offer a great way to see the countryside. Here are a few tips for making the most of your train travel in Europe.
First, check schedules and routes ahead of time so you know exactly when and where your train will be going. You can usually book tickets online in advance, which can save you money and hassle.
Second, take advantage of the opportunity to meet new people on the train. Talk to your fellow passengers, learn about their journeys, and exchange travel tips.
Finally, use the time on the train to relax and enjoy the scenery. If you're lucky enough to have a window seat, take in the views as you zip through picturesque European towns and countryside.
Make Reservations in Advance
Europe is a popular destination for travelers, and it can be difficult to find accommodations if you don't plan ahead.
There are a few things to keep in mind when making reservations in Europe: first, know what type of accommodations you want (hotel, hostel, apartment, etc.); second, research your options and read reviews; and third, make sure to book well in advance, especially if you're traveling during peak season.
With a little planning and preparation, you can ensure that you'll have a place to stay during your trip to Europe. So don't wait until the last minute – start researching and making reservations today!
 Bring Comfortable Shoes to Walk Everywhere
No matter where you go in Europe, you're bound to do a lot of walking. From the cobblestone streets of Rome to the hilly neighborhoods of Lisbon, there's no escaping it. And while it may sound like a pain, walking is actually one of the best ways to see a city. But only if you're prepared for it. Here are some tips for making sure your feet don't hate you at the end of the day.
First, make sure you have comfortable shoes. That doesn't mean your sneakers or your flip-flops, but something in between. A good pair of walking shoes will support your feet and help prevent blisters.
Second, take breaks when you need them.
Bring a Suitcase You Can Carry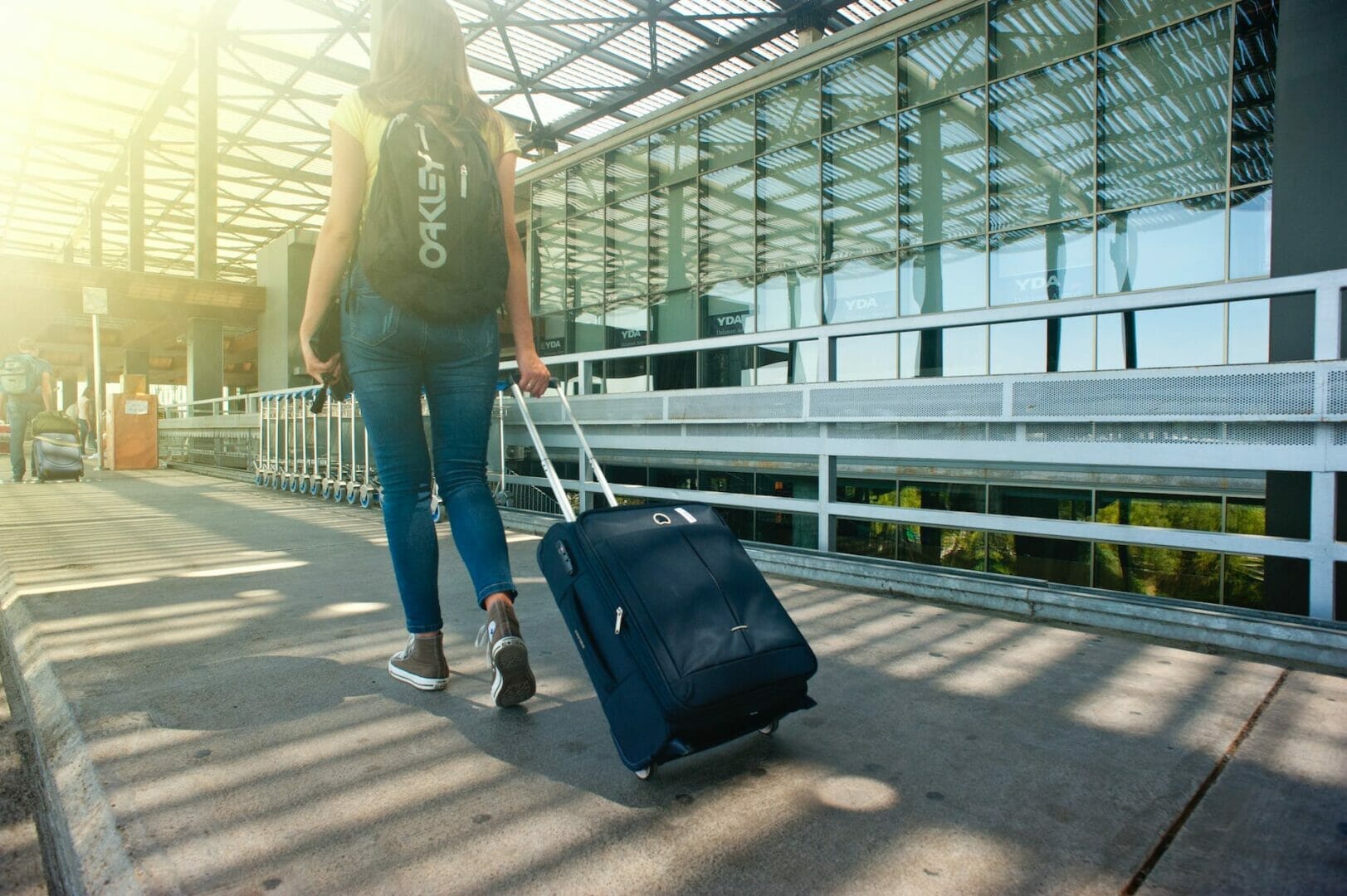 Europe is a beautiful continent with so much to see and do. But if you're not prepared, it can be overwhelming. That's why we've put together this list of travel tips to help you make the most of your trip.
One of the most important things to remember when packing for Europe is to bring a suitcase that you can easily carry around. With so much walking and public transportation, you'll want to make sure your bag is light and comfortable.
Another essential tip is to pack versatile clothing that can be mixed and matched. Layering is key in Europe, as the weather can change quickly from one day to the next. And finally, don't forget to pack your sense of adventure!
 Stay Longer in One Place
If you're thinking of traveling to Europe, you may be wondering how to make the most of your trip. After all, there's so much to see and do! While it's tempting to try to pack in as much as possible, sometimes it's worth it to stay longer in one place. Here are a few reasons why:
You'll have more time to explore.
When you're rushed, you may feel like you're just scratching the surface of what a destination has to offer. By staying longer in one place, you can really take the time to get to know it. Plus, you'll have more time to seek out those hidden gems that make travel so special.
You can save money.
Hotels and restaurants tend to be cheaper when you book for a longer stay.
 Get Off the Beaten Path
If you're looking for a truly unique experience on your next trip to Europe, ditch the popular tourist destinations and head off the beaten path.
There are countless hidden gems throughout the continent just waiting to be discovered, and by venturing away from the well-worn tourist traps, you'll have a much more authentic and memorable experience.
So if you're ready to explore some of Europe's lesser-known corners, here are a few tips to help you get started.
In the series of our off beaten places you can check the post around Villages in Germany.
Packing: what to pack (and what to leave at home)
Travel Umbrella: It's always a good idea to pack a small travel umbrella — especially during the winter and spring.
Earplugs: Bring a pair of decent earplugs just in case you end up in a noisy location. I find that I'm always using my earplugs in Europe hotels and Airbnbs.
Daypack: You'll need something to carry your phone, camera and souveniers while you're out exploring in Europe. I love this medium sized purse that also converts into a backpack!
Sunglasses: Don't forget your sunnies — even in winter. This pair of aviators come with a case!
Travel Adapter: You don't want to be stuck without a way to charge your electronics once you get to your hotel. This all-in-one travel adapter lets you simultaneously charge 5 devices and can be used in the USA, Europe, United Kingdom and Australia, so you won't have to buy a separate adapter for each trip!
Face Moisturizer with SPF: Traveling with a daily moisturizer that also has SPF is a must for me. You'll never forget to put on sunblock again!
Water Bottle: I ALWAYS carry a water bottle when I'm traveling. It's so much better for the environment, it reminds me to hydrate, and I save so much money on unnecessary water purchases. This collapsible water bottle is a no-brainer since it folds up when you're not using it.
Money: currency, ATM's, credit cards
When traveling to Europe, there are a few things to keep in mind when it comes to money. First of all, the currency is different than what we use in the United States. ATM's are widely available, but credit cards may not be accepted everywhere. Here are a few tips to help you navigate the world of money while traveling in Europe.
Currency: The euro is the currency used in most of Europe. Some countries, like the Czech Republic and Hungary, have not yet adopted the euro as their official currency. However, many places will accept euros even if they don't use them officially. It's always a good idea to have some cash on hand in case you run into a place that doesn't accept credit cards.
ATM's: ATM's are widely available throughout Europe and are a great way to get cash when you need it. If you are looking for an alternative card to avoid the conversion fees then you should checkout Revolut Travel Card Review.
Accommodation: hotels, hostels, AirbnB
Europe is a continent rich with history, culture, and natural beauty. It's no wonder that so many people from all over the world flock to its shores each year. Whether you're planning a trip to Europe for business or pleasure, there are a few things you'll need to know before you go.
One of the most important decisions you'll make when planning your trip is where to stay. There are a variety of accommodation options available, from hotels and hostels to Airbnbs. Here are a few tips to help you choose the right option for your needs:
If you're looking for luxury and convenience, a hotel is probably your best bet. Hotels can be found in just about every city and town in Europe, and they offer a wide range of amenities.
Hostels are a great option if you're on a budget.
Transportation: planes, trains, automobiles
Transportation in Europe can be a bit confusing for first time visitors. Here are a few tips to make getting around a bit easier.
There are three main types of transportation in Europe: planes, trains, and automobiles. Depending on your destination and budget, one may be more suitable than the others.
Planes are typically the fastest way to travel between countries, but can be expensive. Trains are a good middle ground – they're not as fast as planes but usually cheaper. Automobiles are the slowest option but can be the most flexible, especially if you're planning on doing some sightseeing along the way.
When choosing your transportation method, keep in mind that Europe is a large continent with many different countries – each with their own rules and regulations. Do your research before you go to make sure you're prepared for your trip.
Sightseeing: the must-see attractions
Sightseeing in Europe can be a daunting task – there are so many incredible places to see! Here are our top picks for the must-see attractions in Europe:
The Eiffel Tower – No trip to Europe would be complete without a visit to the Eiffel Tower! Located in Paris, this iconic structure is one of the most recognizable landmarks in the world.
The Colosseum – Another must-see when in Europe is the Colosseum in Rome. This ancient amphitheatre was once used for public entertainment, and now stands as a reminder of the Roman Empire's grandeur.
The Spanish Steps – Located in Rome, the Spanish Steps are another popular tourist destination.
Food: the best (and worst) dishes
Food is one of the great joys of travel, and Europe has some of the best cuisine in the world. But not all meals are created equal. Here are some of the best (and worst) dishes to try when you're traveling through Europe.
The Best:
Pizza in Naples, Italy: There's no better place to enjoy a slice of pizza than in its birthplace, Naples. The city's pizzerias serve up some of the most mouth-watering pies you'll ever taste. Be sure to try a classic Margherita pizza – it's simply delicious.
Fish and chips in London, England: This classic British dish is a must-try when you're visiting London. Head to a traditional fish and chips shop for the tastiest meal, and don't forget to add a dollop of vinegar on top.
Culture shock: things that may surprise you
When you travel to Europe, there are a few things that may come as a surprise. Here are a few cultural shockers that may catch you off guard:
Europeans love their coffee. If you're not a coffee drinker, be prepared to be bombarded with offers of espresso, cappuccino and more.
Europeans are very fashion-conscious. Even if you're just popping out to the grocery store, chances are you'll be judged on your appearance.
Europeans love their food. From cheese and wine tastings to gourmet meals, be prepared to indulge in some of the best food in the world.
Safety: staying safe while travelling
When it comes to travelling, safety should always be a top priority. Here are some tips to help you stay safe while travelling in Europe:
-Research your destination before you go. This will help you be aware of any potential safety risks.
-Keep valuables close to your body and out of sight. This will help deter thieves.
-Be cautious when using ATMs and keep your PIN number hidden.
-Don't flash large amounts of cash around in public places.
-Be aware of your surroundings and trust your gut instincts if something doesn't feel right.
-If possible, travel with someone else so that you have someone to watch your back.
By following these simple tips, you can help ensure a safe and enjoyable trip to Europe.
Conclusion: have an amazing trip!
Assuming you want tips for traveling to Europe:
Do your research- know where you want to go and what you want to see. This will help make your trip more enjoyable and stress free.
Pack light and be prepared for unpredictable weather. You'll be doing a lot of walking, so comfortable shoes are a must!
Have a loose plan, but be open to impromptu adventures. One of the best parts about traveling is making new memories in unexpected places.
Be respectful of different cultures and customs- remember that you are a guest in someone else's country.  
Don't forget to enjoy the little things! Take time to savor the local cuisine, walk aimlessly through quaint streets, and strike up conversations with the friendly locals.

Get your Notion Travel Planner Template!
Embark on your next adventure with the Wanderlust Planner – Notion Travel Planner Template – Notion Travel Planner Template for 2023 (chasingwhereabouts.com), the ultimate Notion Travel Planner Template. Organize your wanderlust-fueled dreams and turn them into unforgettable journeys. Whether you're a seasoned globetrotter or a newbie explorer, this template has you covered.