If you're planning a trip to Europe in January, there are a few things you should keep in mind to make the most of your holiday. First and foremost, be prepared for cold weather. January is typically one of the coldest months in Europe, so make sure to pack warm clothing, including a heavy coat, gloves, and a hat.
Many popular tourist destinations may be less crowded in January, but some attractions may be closed or have limited hours due to the off-season. It's important to research ahead of time and plan accordingly. To help with your planning, we've put together a sample itinerary for January that includes some of the best destinations to visit during this time of year.
From skiing in the Alps to exploring charming European cities, there's something for everyone. We'll also provide a packing list to ensure you have everything you need for a comfortable and enjoyable trip. So whether you're looking for adventure or relaxation, our guide will help you make the most of your Europe holiday in January.
Reasons to visit Europe in January
There are several reasons to visit Europe in January. Firstly, it's the perfect time to experience winter activities such as skiing, ice-skating, and snowshoeing. Additionally, many cities and towns are decorated for the holiday season, creating a magical atmosphere.
Weather and Climate in Europe during January
January marks the heart of winter in Europe. Expect cold temperatures, especially in the northern regions, with snow-covered landscapes that resemble scenes from a fairytale. Southern Europe enjoys milder weather but can still be brisk. Pack your warmest coats, scarves, and gloves to stay cozy while exploring the charming streets and countryside.
Benefits of Traveling to Europe in January
Traveling to Europe in January has several advantages. The lower tourist traffic means fewer crowds, shorter queues, and the opportunity to fully immerse yourself in the local culture. Moreover, you'll likely find great deals on accommodations, making your trip more budget-friendly. European cities also don a festive look, with charming Christmas markets and decorations still adorning the streets.
Popular Destinations in Europe for January Holidays
Canary Islands in Spain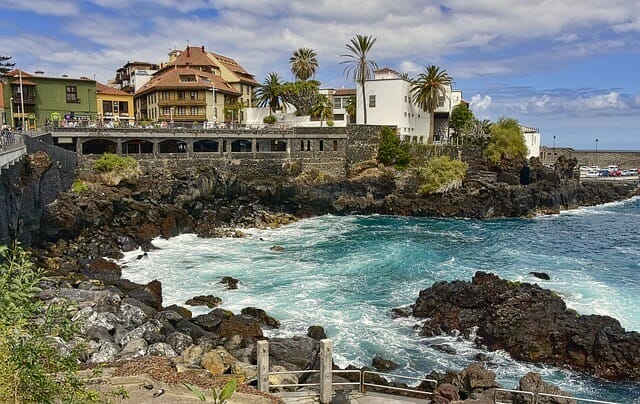 The Canary Islands offer a welcome escape from the cold European winter, with average temperatures of around 20°C in January. Enjoy the stunning beaches, go hiking in the volcanic landscapes, or visit one of the many charming villages.
Madeira Portugal
Madeira is another great option for a winter sun holiday in Europe. The island has a subtropical climate with mild winters, and there's plenty to see and do, from exploring the lush rainforests to visiting picturesque villages.
The above picture is from Lobos Village in Madeira Portugal.
Algarve Portugal
The Algarve region of Portugal is known for its beautiful beaches, golf courses, and charming towns. While the weather is not as warm as in the summer, it is still mild enough to enjoy the outdoors in January.
Seville Spain
Seville is a vibrant city with a rich history and culture. In January, the city is less crowded than in the summer, and you can enjoy the many attractions without the long queues. Be sure to visit the Alcázar Palace, the Seville Cathedral, and the Plaza de España.
Athens Greece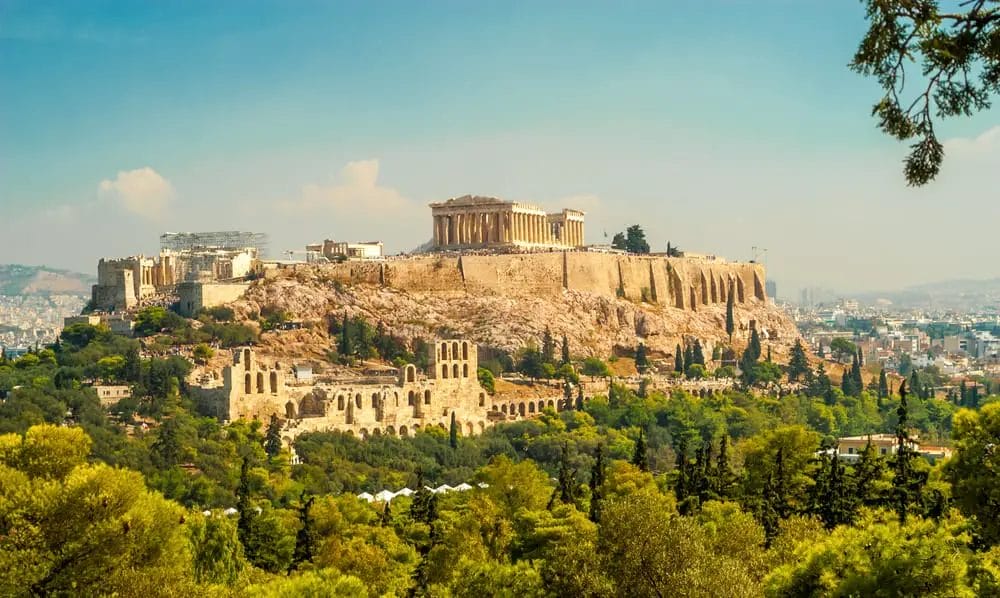 Athens is a great choice for a winter city break in Europe. The weather is mild in January, and there are plenty of things to see and do, from visiting the Acropolis and other ancient ruins to exploring the Plaka neighbourhood and sampling the delicious Greek cuisine.
If you're looking for something a little different, here are a few more ideas for European holidays in January:
Go skiing in the Alps: January is a great time to go skiing in the Alps, with plenty of snow and fewer crowds than in the peak winter season. Some popular ski resorts include Chamonix in France, Zermatt in Switzerland, and Innsbruck in Austria.
Visit a winter market: Winter markets are a popular tradition in many European cities, and they offer a great way to experience the local culture and cuisine. Some of the most famous winter markets include the Vienna Christmas Market in Austria, the Budapest Christmas Fair in Hungary, and the Strasbourg Christmas Market in France.
Celebrate Epiphany: Epiphany, also known as Three Kings Day, is a major holiday in many European countries, and it is celebrated with parades, festivals, and other special events. Some of the best places to celebrate Epiphany include Seville, Spain; Barcelona, Spain; and Rome, Italy.
Sample Itinerary for European holidays
One Week Itinerary for Europe Holidays in January
Day 1: Explore Paris, France
Accommodation:

Le Meurice
Hotel Plaza Athénée
Shangri-La Hotel, Paris

Things to Do:

Visit the Eiffel Tower.
Explore the Louvre Museum.
Stroll along the Seine River.
Try authentic French cuisine at a local bistro.
Discover the charm of Montmartre.
Day 2: Discover Amsterdam, Netherlands
Accommodation:

Hotel Pulitzer Amsterdam
Waldorf Astoria Amsterdam
The Hoxton, Amsterdam

Things to Do:

Explore the Van Gogh Museum.
Take a canal cruise.
Visit the Anne Frank House.
Experience Dutch pancakes.
Wander through the Red Light District.
Two-Week Itinerary for Europe Holidays in January
Week 1: Western Europe
Days 1-3: Paris, France (as mentioned above)
Day 4-7: Explore Rome, Italy

Accommodation:

Things to Do:

Visit the Colosseum.
Explore the Roman Forum.
Discover the beauty of the Vatican City.
Savor authentic Italian pasta.
Toss a coin at the Trevi Fountain.
Week 2: Northern Europe
Days 1-4: Copenhagen, Denmark

Accommodation:

Hotel d'Angleterre
71 Nyhavn Hotel

Things to Do:

Explore the Tivoli Gardens.
Visit the Little Mermaid statue.
Enjoy a Nordic cuisine experience.
Discover the Nyhavn Harbor.
Visit the Rosenborg Castle.
Three-Week Itinerary for Europe Holidays in January
Week 1: Western Europe (as mentioned above)
Week 2: Northern Europe (as mentioned above)
Week 3: Southern Europe
Days 1-4: Barcelona, Spain

Accommodation:

Majestic Hotel & Spa Barcelona
Hotel Arts Barcelona
W Barcelona

Things to Do:

Explore Park Güell.
Visit the Sagrada Família.
Discover the Gothic Quarter.
Savor tapas and paella.
Relax on the Barcelona beaches.

Days 5-7: Athens, Greece

Accommodation:

Hotel Grande Bretagne
King George, a Luxury Collection Hotel
Electra Palace Athens

Things to Do:

Explore the Acropolis.
Visit the National Archaeological Museum.
Taste authentic Greek cuisine.
Explore Plaka, Athens' old town.
Discover the Temple of Olympian Zeus.
Tips for a Budget-Friendly European Vacation in January
1. Plan Ahead:
Start your planning well in advance. Booking flights and accommodations early can often result in significant savings.
2. Travel Off-Peak:
January is considered the off-peak season in Europe. Traveling during this time can lead to lower prices and fewer crowds at popular tourist destinations.
3. Flexible Travel Dates:
Be flexible with your travel dates. Prices for flights and accommodations can vary greatly depending on the day of the week and time of the month. Consider traveling on weekdays or mid-month for the best deals.
4. Fare Comparison Websites:
Utilize fare comparison websites and apps to find the best deals on flights. Keep an eye on deals and promotions. Booking early or being open to last-minute deals can save you money.
5. Consider Alternative Airports:
Look for flights to and from alternative airports within the region. Sometimes, flying into a nearby city and then taking a train or bus to your final destination can be a cost-effective option.
6. Budget Airlines:
Consider budget airlines for domestic and regional travel within Europe. These carriers often offer competitive prices, especially if you book tickets well in advance.
7. Accommodation Options:
Choose budget-friendly accommodations such as hostels, guesthouses, and budget hotels. Look for places with positive reviews and convenient locations.
8. Cooking Your Meals:
To save on food costs, choose accommodations with kitchen facilities and shop at local markets for fresh ingredients. Cooking your meals can be not only cost-effective but also a fun cultural experience.
9. Street Food and Local Eateries:
Explore the local cuisine by opting for street food and dining at local eateries. These places often offer authentic, delicious food at a fraction of the cost of upscale restaurants.
10. Public Transportation:
European cities typically have efficient and affordable public transportation systems. Consider using buses, trams, and subways instead of renting a car or taking taxis. Multi-day transportation passes can provide additional savings.
11. Free Attractions:
12. City Cards:
Check if the destination city offers tourist cards that provide discounts on transportation, attractions, and dining. These cards can be a cost-effective way to explore the city.
13. Walk and Explore:
Many European cities are highly walkable. By exploring on foot, you'll not only save on transportation costs but also have a chance to discover hidden gems and experience the local culture up close.
14. Pack Smart:
Pack appropriately for the weather to avoid unnecessary purchases while abroad. Layering your clothing can help you stay warm in January.
15. Travel Insurance:
16. Local Festivals and Events:
Check if there are any local festivals, events, or cultural celebrations happening during your visit. These can provide unique experiences and often include free or low-cost activities.
17. Currency Exchange:
Be mindful of currency exchange rates and fees. Compare rates at banks, currency exchange offices, and ATMs to get the best deal.
18. Research and Plan Activities:
Research your destination thoroughly and plan your activities in advance. This will help you make the most of your time and budget.
19. Avoid Peak Tourist Areas:
Try to explore less touristy neighbourhoods and regions. Prices tend to be lower, and you'll have a more authentic experience.
20. Local Transportation Deals:
In some cities, public transportation cards or passes may include discounts on attractions. Be sure to check if such deals are available.
21. Souvenirs and Shopping:
Be selective with your souvenir shopping. Look for local markets and shops away from the tourist areas to find unique and reasonably priced items.
22. Language Skills:
Learning a few basic phrases in the local language can go a long way in saving money and connecting with locals.
Packing Essentials for a Winter Trip to Europe
1. Warm Clothing:
Winter Coat: A warm, insulated, and preferably waterproof coat is essential. Look for one with a hood to protect against rain and snow.
Layered Clothing: Pack sweaters, long-sleeve shirts, and thermal underlayers to layer your clothing for added warmth.
Waterproof Pants: Waterproof or water-resistant pants are crucial, especially if you plan to spend time outdoors in wet conditions.
Fleece or Wool Pullovers: These provide extra insulation and are great for layering.
Scarf and Gloves: Keep your neck and hands warm with a good-quality scarf and insulated gloves.
Hats or Beanies: A warm hat or beanie helps retain body heat and keeps your head and ears cozy.
Thermal Socks: Several pairs of thermal socks will keep your feet warm and dry.
2. Footwear:
Waterproof Boots: Sturdy, waterproof boots with good traction are a must for walking in snowy or wet conditions.
Casual Shoes: Pack a comfortable pair of casual shoes or sneakers for indoor activities and lighter outings.
Travel Umbrella: A compact, windproof umbrella is essential for staying dry during rainy days.
Power Adapter: Ensure you have the right power adapter for your electronic devices.
Reusable Water Bottle: Stay hydrated while on the go with a reusable water bottle.
Backpack: A small backpack is handy for carrying essentials and daily supplies.
Reusable Shopping Bag: A foldable shopping bag can be useful for groceries and souvenirs.
4. Toiletries:
Toothbrush, Toothpaste, and Floss: Maintain your dental hygiene with travel-sized dental care items.
Shampoo, Conditioner, and Soap: Travel-sized toiletries are easy to carry and use.
Hand Sanitizer: Keep your hands clean while on the go.
Skin Care Products: Moisturizer, lip balm, and sunscreen are important to protect your skin from harsh winter conditions.
5. Electronics:
Smartphone and Charger: Keep your smartphone charged for navigation and communication.
Camera and Accessories: If you're into photography, don't forget your camera, extra batteries, and memory cards.
Travel Adapter: Make sure you have the right adapter to charge your devices in Europe.
6. Documents and Money:
Passport and Visa: Ensure your travel documents are up to date.
Travel Wallet: A travel wallet or pouch to keep your passport, credit cards, and cash secure.
Travel Insurance: Don't forget your travel insurance policy details.
Emergency Contact Information: Carry a list of emergency contact numbers and addresses.
7. Entertainment:
Books, E-Readers, or Magazines: Bring reading material for downtime during your trip.
Headphones: A pair of noise-canceling headphones can enhance your travel experience.
8. Medications and First Aid:
Prescription Medications: Ensure you have an ample supply and any necessary documentation.
First Aid Kit: Carry a basic first aid kit for minor injuries and illnesses.
9. Travel Guide and Maps:
Travel Guidebook: A guidebook or digital travel guide can be valuable for trip planning.
Maps: Physical or digital maps of the cities you plan to visit.
10. Travel Comfort Items:
Neck Pillow: If you're taking long flights or train rides, a neck pillow can improve your comfort.
Eye Mask and Earplugs: These can be useful for getting quality sleep, especially if you stay in shared accommodations.
Must-See Attractions in Europe
Eiffel Tower, Paris, France: Witness the iconic symbol of romance.
Colosseum, Rome, Italy: Explore the grandeur of ancient Rome.
Acropolis, Athens, Greece: Step into the world of ancient Greek civilization.
Dubrovnik Old Town, Croatia: Wander through a well-preserved medieval city.
Neuschwanstein Castle, Germany: Visit the inspiration behind Disney's Cinderella Castle.
Exploring Europe's Natural Beauty
Europe's winter landscapes are breathtaking. Explore the Swiss Alps, the Scottish Highlands, or the stunning fjords of Norway.
Conclusion
Travelling to Europe in January promises a unique and enchanting experience. With fewer crowds, beautiful winter scenery, and numerous cultural events, it's a perfect time to embrace the charm of Europe. So, pack your bags and discover the magic of Europe during the winter months.
FAQs
1. Is January a good time to visit Europe?
Absolutely! January offers a unique and less crowded experience with charming winter landscapes and cultural festivities.
2. What should I pack for a European trip in January?
Pack warm clothing, waterproof boots, an umbrella, and a camera to capture the stunning scenery.
3. Are there budget-friendly options for accommodations in Europe in January?
Yes, you can find budget-friendly accommodations such as hostels, guesthouses, and Airbnb, especially if you book in advance.
4. What are some popular winter destinations in Europe?
Popular winter destinations include Vienna, Bruges, Prague, Reykjavik, and Rome.
5. Are there any safety concerns for travelers in Europe during January?