Here is the list of day trips from Zurich for anyone looking to explore the area a little bit more. Each post has a map, cost of the trip, location, and detail on the trip.
Zurich is a great city to base yourself from as there are so many things to see and do within an hour or two of the city. The best way to see these places is to take a day trip away from the hustle and bustle of the city.
But if you are still in Zurich and wondering what you can do in the city then here are top things to do in Zurich.
Best Day Trips from Zurich
After spending time in the vibrant cultural city of Zurich, it's worth taking a day trip out to explore the region. The Alps are enchantingly close when the clouds are not.
You can explore the beautiful old towns and vibrant urban culture in the vicinity of Zurich within a few hours. Switzerland has many things to do, thanks to its small size and efficient public transportation system. These are the top day trips from Zurich.
If you want to rent a car for your day trip from Zurich then below are the options which you can take
Day trips from Zurich to Winterthur
Winterthur, Switzerland's sixth-largest, is often overlooked by the attractions of Zurich. However, it packs a big cultural punch. Oskar Reinhart is an art collector who has financed some genuinely fantastic art collections in Europe and a science museum and photography museum that are both kid-friendly. There's also a castle-turreted castle on a hill just south of the town.
Winterthur is known for its beautiful sights. It also boasts one of the largest pedestrian-only old towns in Switzerland. This town is lined with pastel-painted, Terracotta-tiled bars and cafes, and boutiques perfect for a relaxing stroll.
How do I get to Winterthur? Several trains run every hour from Zurich to Winterthur's central station. It takes less than 30 minutes. The station is where buses to Zurich leave from. Take the A1 freeway if you are driving to Zurich.
The train tickets from Zurich to Winterthur cost you just 14 Euro and you can pre book that from here
You can learn more about Winterthur from here
Day trip to Uetliberg from Zurich
The rapid transition from the urban to the outdoor is marked by Uetliberg, at 2860 feet high, Zurich's mountain. In the fall, it's ablaze in spring with wildflowers and dripping with russets and golds. If city dwellers need to get out of their comfort zone, they can hike, bike, or jog along the trails through the countryside and woods. Uetliberg Aussichtsturm is the highest point of the mountain. It's a steel lattice observation Tower with stunning views over Lake Zurich. Sunset is the best time to see it.
How do I get to Uetliberg? The train line S10 runs twice an hour from Zurich's main railway station to Uetliberg. It takes less than 30 minutes. It's only a 10-minute walk uphill from here to the viewpoint. A cable car descends to Adliswil every 15 minutes from the Felsenegg vantage Point.
From there, frequent S4 trains go to Zurich.
Day trip to Mount Rigi from Zurich
Queen of the Mountains, Rigi is surrounded by alpine forests and lakes which gives it a legendary quality.
Explore this hidden gem in the Swiss Alps by taking a round-trip guided tour departing starting from Zurich and a knowledgeable guide will describe the stunning beauty along the way. Take a ride over stunning mountain views on a cable car. take a ride on Europe's oldest mountain train, or cruise over Lake Lucerne in a boat and much more.
If you feel like reading more about Rigi then you check on the official website of Rigi
If you want to reach there on your own then here are the train tickets from Zurich to Rigi
Day Trip from Zurich to Lucerne
A recipe for a beautiful Swiss city is to take a cobalt-colored lake surrounded by mountains of myth and add a well-preserved medieval Altstadt and a reputation for making beautiful music. Finally, sprinkle with covered bridges, sunny plazas, candy-colored houses, and waterfront promenades.
Lucerne has been a popular spot since Queen Victoria, Wagner, and Goethe enjoyed its beauty. Legend says that an angel with a lamp showed the first settlers how to build a chapel at Lucerne. This light is still a marvel of grace today.
How do I get to Lucerne? Regular trains connect Lucerne and Zurich with a journey that takes 45 minutes to an hour. The road to Zurich is accessible via the A14/A4 highway.
You can get your Train Ticket from Zurich to Lucern at a cost of 24 Euro from here
We have also shared the Top things to do in Lucerne during your trip here
Aside from taking the train, there are also other travel options to get from Zurich to Lucerne.
Day trip from Zurich to Bern
It's difficult to believe that Bern, the capital of Switzerland, is a picture-perfect, Unesco World Heritage-listed town. The cobbled and flag-adorned Bern's center is a delight. It was rebuilt in gray-green sandstone in 1405, following a devastating fire. The surrounding hills offer a stunning view of red roofs arranged on a small land area at the end of the Aare River. Bern surprises and seduces at every turn. It has excellent museums, a lively drinking scene, and residents who are happy to change from Bern's famously lilting language to textbook French, High German, or English. This all shows that there is more to Bern than bureaucracy.
How do I get to Bern? Trains depart at least once an hour from Zurich. The journey takes between one and two hours.
You can get your Train Ticket from Zurich to Bern at a cost of 24 Euro from here
For centuries, the Lauterbrunnen Valley has been a magnet for visitors (c) Pete Seaward/Lonely Planet
Day Trip from Zurich to Lauterbrunnen
Lauterbrunnen's wispy Stubbbach Falls inspired Lord Byron and Goethe to write poems about their ethereal beauty. The postcard-perfect village is now a popular tourist attraction, nestled in the valley of 72 waterfalls. Lauterbrunnen, a laid-back town with chalet-style accommodations, is a beautiful base for nature-lovers who want to climb or hike and a magnet for thrill-seeking BASE Jumpers.
How do I get to Lauterbrunnen? Trains leave Zurich every 30 mins, with stops in Bern and Interlaken. It takes approximately two and a quarter hours to travel.
If you are looking for the ticket for the train from Zurich to Lauterbrunnen you can check here
Day trip from Zurich to Jungfraujoch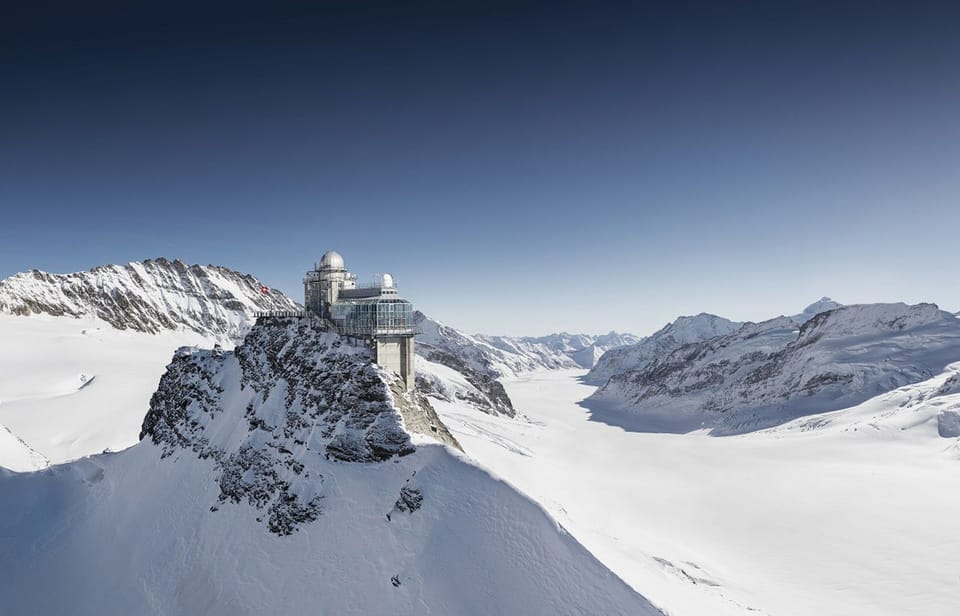 Switzerland's most iconic experience is the train ride to Jungfraujoch (1,332ft). The railway, which runs through the heart and soul of the Eiger, was built in 1912. It now transports more than 2 million people per year through breathtaking high Alpine scenery. It is breathtakingly beautiful to see the icy wilderness of swirling turrets and 13,000ft glaciers that rises high above.
Outside, you can see the 14-mile-long tongue of Aletsch Glacier. It is a Unesco World Heritage Site and the longest glacier in the Alps. The views extend as far as Germany's the Black Forest on cloudless days. The Sphinx weather station has ice sculptures, restaurants, and indoor viewpoints. There are also souvenir shops.
How do I get to Jungfraujoch? Jungfraujoch is a long-distance trip from Zurich. However, this journey is worth it if you are short on time. You can reach the mountain by train in less than 3.5 hours if you get there early enough.
Wondering how to reach Jungfraujoch by Train from Zurich then you can get the ticket from here
Day Trip from Zurich to Liechtenstein
Liechtenstein is a tiny country. It lies between Austria and Switzerland, amid mountain ranges that rise high and rugged above The Rhine. Apart from the novelty of visiting one of the richest and smallest countries in the world, Liechtenstein is pure fairytale stuff. It's a mountain kingdom ruled by an iron-willed monarch deep within the Alps, crowned with turreted castles.
The country's western side is more populated in the Rhine Valley. It is relatively flat while the east is mountainous. The country is home to many hiking trails and ski slopes, making it a popular destination for outdoor enthusiasts. You'll be amazed at how small this micronation is when you venture into the alpine wilderness beyond Vaduz.
How do I get to Liechtenstein?
At 15.5 miles long and 7.5 miles wide, Liechtenstein is the smallest country in Europe. Access from Switzerland is via a local bus. Take the train from Zurich to Sargans, a Swiss border city. The journey takes 55 minutes. In about 30 minutes, you can catch frequent buses to Vaduz, Liechtenstein's capital. Drivers can take the Swiss Autobahn 13/E43 along the Rhine, crossing into Liechtenstein at every exit. Minor roads also cross into Liechtenstein at each exit.
---
Ads Starting
Post Continues
---
Day Trip from Zurich to Mount Titlis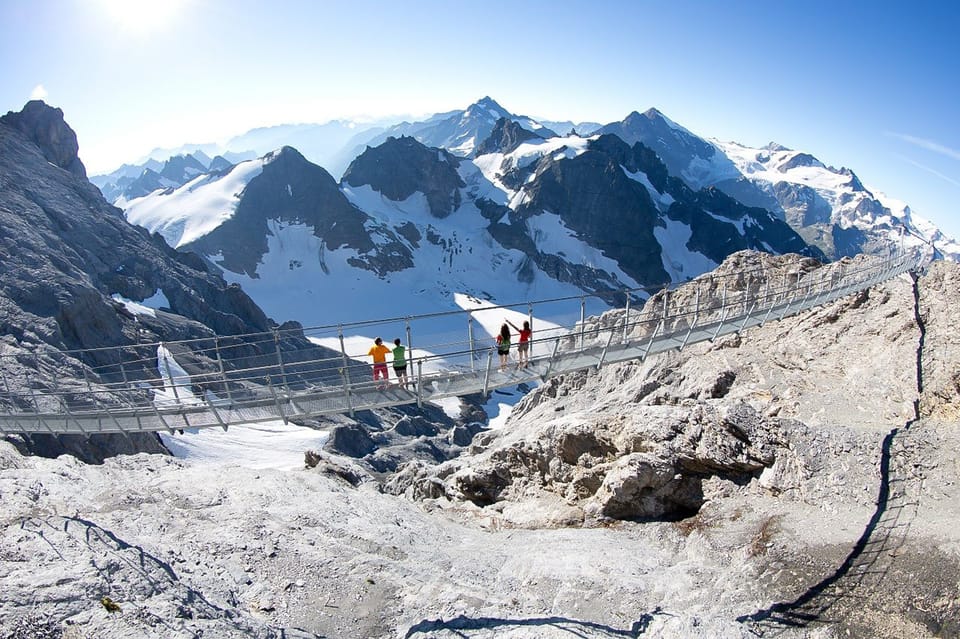 The world's first revolving cablecar is known as Mount Titlis. It is the highest mountain in central Switzerland. This cable car was built in 1992 and remained one of the most unique. This is just one of three incredible stages. You first board the TITLISXpress, which takes you from Engelberg (33323ft) to Trubsee (5955ft), and then on to Stand (808ft).
The Rotair, which only the cabin inside revolves, is then taken to Stand for the crossing of the Titlis Glacier. Titlis Station (9908ft) offers all the tourist attractions and restaurants, including an adventure park, scooter biking, and alpine flower trails. The TITLIS Cliffwalk is at the top of the list. The highest suspension bridge in Europe, at 1640ft, is accessible to all.
This steel bridge measures 328ft long and 3ft wide. Enjoy it, and grit your teeth! It takes about 45 minutes to reach the summit at 10,625ft. Wear sturdy shoes. Although it doesn't seem far, you should take it slow at this high altitude.
How do I get to Mount Titlis? Trains run from Zurich to Engelberg once an hour. The journey takes approximately one hour and 45 min. Lucerne requires a change.
There are some awesome day trips from Zurich to Mount Titlis which you can check out below –
---
Ads Starting
Post Continues
---
Day trip to Rheinfall from Zurich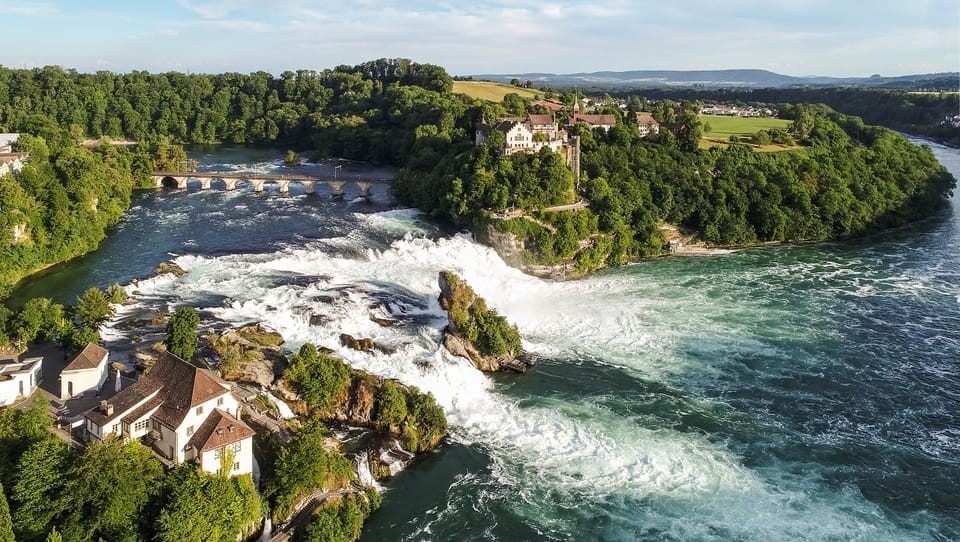 The Rheinfall was formed by tectonic changes during the last Ice Age 15,000 years ago. It is a spectacular crash-bang spectacle that pours 75 feet into a basin in a series of swirling cascades and billowing spray plumes. The Rheinfall, Europe's largest plain waterfall, is best seen from the medieval Schloss Laufen trail or the boat that crosses to the rock above.
You can read in details about this trip in our seperate post A Day Trip to Rhine falls to fall in Love
How do I get to Rheinfall? After a 55-minute journey, the S9 train departs from Zurich and drops passengers at Neuhausen Rheinfall station.
You can find some good rhine falls tour from zurich which you can take from here. If you want to check the availability you can check below
Day trip from Zurich to Basel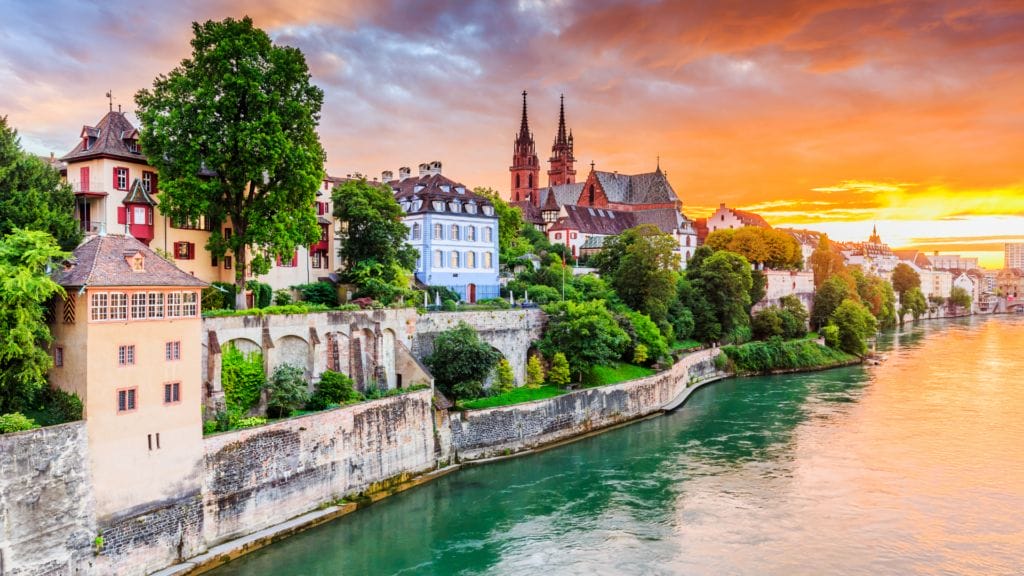 Basel attracts thousands of art and architecture enthusiasts to the city's renowned ART Basel festival every year. They also enjoy the city's many galleries, museums, and iconic buildings. Basel's location at the French, German, and Swiss borders crossroads makes it a multicultural city. It is also home to the most prominent Swiss Franco-Germanic roots, even though the predominant language is Swiss-German.
It is easy to spend a whole day exploring the cobbled streets and picturesque Altstadt in Grossbasel (Greater Basel) on the Rhine's south banks. Then cross the Mittlere Brucke (Klein Basel) for a more relaxed vibe and alfresco dining by the riverside.
How do I get to Basel? There are frequent trains that run between Zurich, Switzerland, and Basel. The journey takes about an hour.
You can book your Train Tickets from Zurich to Basel which cost you around 18 Euro and you can research about it here
Day Trip to Grindelwald & Interlaken from Zurich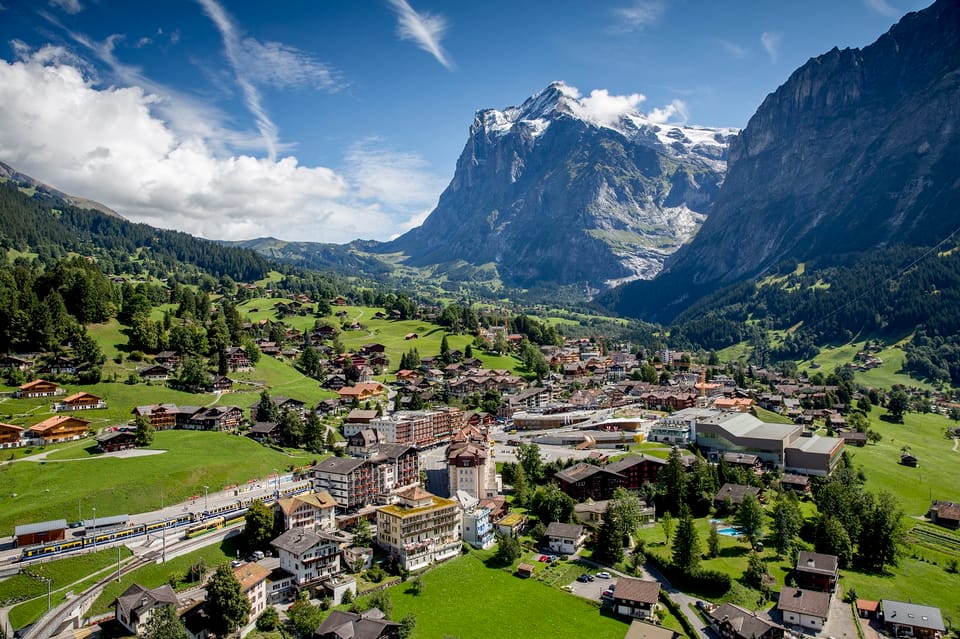 Discover the picturesque Bernese Oberland and stunning Jungfrau mountain range in a full day tour departing starting in Zurich. The day is free for exploring the all-famous resorts in the mountains in Grindelwald and Interlaken that are located between two lakes.
Travel through the countryside to Interlaken located in the middle of the Bernese Oberland. After orientation, head to Grindelwald which is often referred to in the region of "Glacier Village." Numerous viewpoints give breathtaking views of the stunning mountains, including the triple mountains that comprise Jungfrau, Monch and the Eiger, Monch, and Jungfrau.
Take the cable car up to the sun-soaked terrace of Mt. First, from where you can rent a unique and exciting Trottibike for a ride down town (optional but is not provided). In the late afternoon, take the train back to Interlaken in which you'll take the rest of the day exploring the shopping district of the region. There are a variety of options available, including regional foods, fine jewelry as well as Swiss watches.
If you're not looking to shop, go to the Interlaken's Harder Kulm mountain. A funicular takes you up the mountain for stunning views (optional but is not provided). Take a breath of cool mountain air prior to getting to meet your guide for your return trip towards Zurich and the conclusion of the trip.
So ofcourse this excursion is going to be one of the best Zurich Day trips for you.
If you are planning to visit Interlaken on your own then you can book the train tickets from Zurich to Interlaken or check more about it here
That was our list for Best One Day Trip from Zurich which you can do when you are already done with exploring Zurich. Do let us know which trip you are planning to take and if you have any questions then don't worry and Contact Us for the same.
Some more resources for Planning your Trip to Switzerland –
Get your Notion Travel Planner Template!
Embark on your next adventure with the Wanderlust Planner – Notion Travel Planner Template – Notion Travel Planner Template for 2023 (chasingwhereabouts.com), the ultimate Notion Travel Planner Template. Organize your wanderlust-fueled dreams and turn them into unforgettable journeys. Whether you're a seasoned globetrotter or a newbie explorer, this template has you covered.