As someone who loves traveling and exploring new destinations, I recently had the opportunity to visit the Aquardens Verona, which is Italy's largest thermal park. Read further about Aquardens Verona Review to decide if you wish to visit this on your next trip.
The experience was nothing short of incredible, and in this review, I will share my thoughts and opinions on this unique and therapeutic journey.
Aquardens Verona Review Summary
As soon as I arrived at Aquardens Verona, I was immediately struck by the beautiful surroundings. Located in the heart of Valpolicella, just a few kilometers from Verona, the park is nestled among the rolling hills of the Italian countryside. From the moment I entered, I was greeted by the soothing sound of waterfalls, which created a serene and calming atmosphere.
Aquardens Verona is the perfect place to relax and unwind. With its natural hot springs, therapeutic pools, saunas, and massages, the park offers a wide range of treatments that cater to different needs. Whether you are looking to relieve stress, soothe sore muscles, or simply enjoy a day out in nature, Aquardens Verona has something for everyone.
The Hot Springs
The hot springs at Aquardens Verona are the main attraction of the park. The water is rich in minerals and has therapeutic properties that help to relieve muscle tension and promote relaxation. There are several hot spring pools at the park, each with a different temperature and depth. I particularly enjoyed the outdoor pools, which offered stunning views of the surrounding countryside.
Saunas and Steam Rooms
In addition to the hot springs, Aquardens Verona also has a variety of saunas and steam rooms. These are designed to promote detoxification and improve circulation, and they offer a relaxing and rejuvenating experience. I especially enjoyed the Finnish sauna, which had a beautiful panoramic view of the park.
Massages and Treatments
If you are looking for a more indulgent experience, Aquardens Verona also offers a range of massages and treatments. From traditional Italian massages to modern therapies, there is something for every preference. I tried the aromatic massage, which used essential oils to promote relaxation and reduce stress. It was a truly blissful experience.
Read More: Honest Review of Gardaland Amusement Park
Food and Drink
Aquardens Verona also has a variety of food and drink options, ranging from healthy snacks to indulgent treats. I enjoyed a delicious salad and a glass of Prosecco at the park's restaurant, which had a beautiful terrace overlooking the pools.
Where to get Tickets for Aquardens Verona?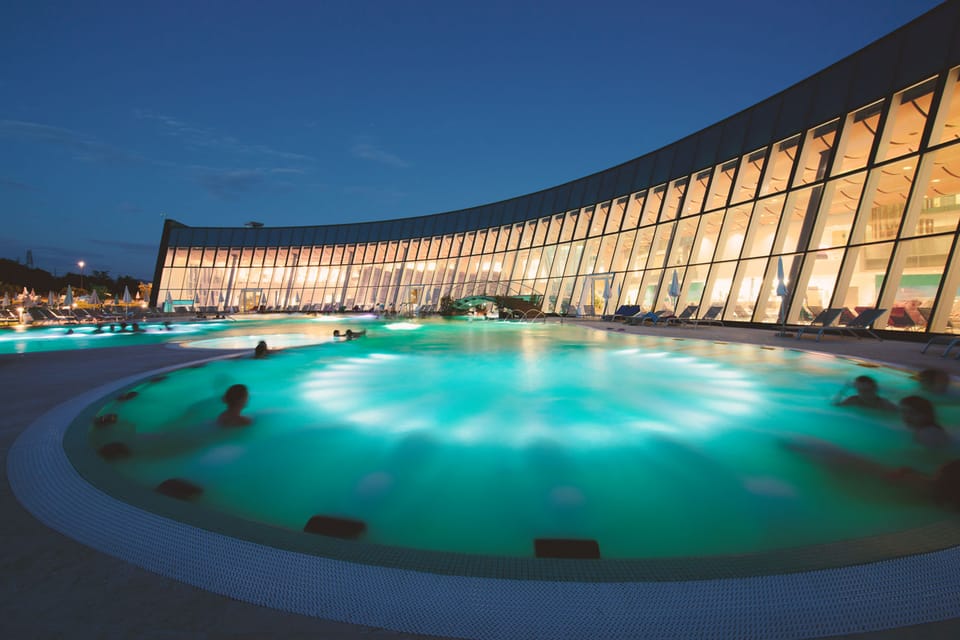 FAQ
Is Aquardens Verona suitable for families?
Yes, Aquardens Verona is suitable for families. The park has several pools that are specifically designed for children, as well as a dedicated play area.
What should I bring to Aquardens Verona?
It is recommended to bring a swimsuit, a towel, and a pair of slippers or flip flops. You can also rent towels and slippers at the park if you forget to bring your own.
Are there any age restrictions at Aquardens Verona?
Children under the age of 14 must be accompanied by an adult, and there are some restrictions on the use of certain facilities