In this post we will be talking about the 5 Best Treehouses to rent in Europe. So if you are fasicnated about Treehouse Hotel, Treehouse Airbnb or Treehouse Apartments then you might wanna read this post.
Europe is a nature lover's paradise. There are so many different ways to explore and enjoy the continent's awe-inspiring landscapes. A few of the best ways include by car, train, bike, or on foot.
One of the best ways to see Europe's beautiful countryside is by car. You can choose your own route and make stops along the way as you please. There are also many scenic drives that will take you through mountain ranges, past rivers and lakes, and through quaint villages.
Another great way to explore Europe's nature is by train. You can travel between different countries and see everything from rolling hills to snow-capped mountains. Many trains also have open-air cars which offer great views of the countryside below.
Biking is another fantastic way to experience Europe's natural beauty.
5 Best Treehouses to rent in Europe
If you're looking for an unforgettable vacation experience, consider renting a treehouse in Europe. These unique accommodations can be found in many beautiful locations throughout the continent, and offer a one-of-a-kind way to explore everything Europe has to offer. From the mountainous regions of Austria and Switzerland to the coastal towns of Portugal and Spain, there's a treehouse waiting for you somewhere in Europe.
Most treehouses are equipped with all the amenities you need for a comfortable stay, including kitchens, bathrooms, and bedrooms. Some even have Jacuzzis or other features that make for a truly luxurious experience. And since you'll be spending your time outdoors among the trees, you'll be able to enjoy some of the most stunning scenery in all of Europe.
So if you're looking for an adventure that's both unique and relaxing, we have gathered the 5 best treehouse rentals in Europe for you:
Treehouse to Rent in Europe
Nature Villa treehouse KÄBI in Estonia
This is a unique opportunity to stay in a real Estonian treehouse! The KÄBI is perfect for up to 2 people and has all the amenities you need, including a king size bed, jacuzzi, fireplace, shower, toilet and electricity & heating. There are also Estonian design elements throughout the treehouse, making it a truly unique experience.
The entire space of this treehouse rental is 38 square meters, which gives you plenty of comfort and space. The design was inspired by the nature, and this property is a true masterpiece. It is located in the 500 years old Maidla Manor complex, and it is a great example of the Manor culture and Estonian History.
Treehouse to Rent in Europe
Chrysalis Lodge in France
The Chrysalis Lodge in Pays de la Loir in France is a treehouse built high up in the branches of a nine foot tall tree. This treehouse rental in France has a unique design. It has two floors inside, and you can access it through a bridge that is connected to a nearby tree.
It offers stunning views of the surrounding countryside and is perfect for those who love nature and want to get away from it all. The lodge has all the amenities you need, including a kitchenette, bathroom, and 1 bedroom. It sleeps up to 3 people, as it has one king size bed and one single bed for children.
The bathroom is located on the ground floor, and it is equipped with an Italian shower. There is also a terrace that overlooks the valley, and offer amazing view of the scenery.
It's also equipped with heating and air conditioning, so you can enjoy your stay regardless of the weather.
Treehouse to Rent in Europe
Welsh Airborne Treehouse Camping
This is probably the treehouse that is the most unique on the list. It is not so much because of the amenities it has, but it is mostly because it gives you camping experience because of the way it is built, or shall we say it is more of a glamping experience.
This treehouse is the located in the countryside of Powys, North Whales, and it is really something special. The construction is lightweight, as it is made of aluminium, and is basically hanging of the trees. Don't worry, it is perfectly safe. It is connected to the ground with a bridge, which makes it look even more special.
In the winter, there is a log burner to keep you warm, and there the power supply comes from solar panels, which provides the tent with lighting and power sockets.
Parking is just a short walk from the location, and there is a toilet hut which is 15-20 meters away from the treehouse. We definitely recommend this treehouse rental, the scenery around is unbeatable.
Treehouse to Rent in Europe
The Forest UFO treehouse in Sweden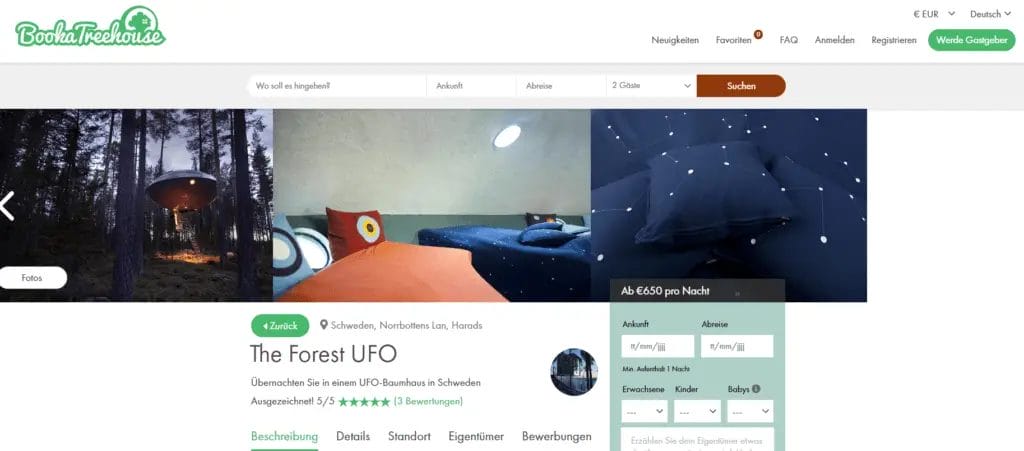 Located in Lorbottens Lan, Sweden, this treehouses looks like it is from another world. The design is inspired by the idea of a UFO, and it is a real attraction for travellers visiting the Arctic Circle.
The UFO treehouse has one big bedroom which can sleep up to 5 people. Inside you will find one king size bed and 3 single beds. It is perfect for a group of friends or a family, as it is equipped with everything you will need. It is located only an hour away from Luleå (Kallax) airoprt in Sweden.
There is so much to do here. Being next to the Arctic Circle, probably the main reason why you would come here is to see the Northern lights. But, there are so many different options. Summer is the perfect time to get outdoors and enjoy some fun activities. White-water rafting is always a blast, and horse riding is great exercise. Sea kayaking can be a peaceful way to spend an afternoon, while dog sledding is perfect for those who love winter sports. And for a truly unique experience, try ice dining.
Treehouse to Rent in Europe
Ball-Shaped Treehouse in Germany
In the trees near Hesse, Germany there is a ball-shaped treehouse. The owners of this property wanted a place to relax and get away from the city. The treehouse took months to build and it is a creation of art. It has a bedroom, kitchenette, and bathroom.
The treehouse is a unique shape that will not allow it to have a bathroom. But, there is a water closet nearby and showers in the Berlpesch Castle tower. This treehouse is perfect for those who are looking for a rustic getaway. It is also close to many attractions, including mountain parks and castles.
Inside the property you will find one king size bed, and the treehouse can sleep up to 2 people. It is great for a romantic getaway. The complex around is secure, it is family friendly and pets are allowed. It is 50km away from the nearest Airport.
If you already staying here some other things which you could like is checking out Mountains in Germany and Lakes in Germany.
Treehouse to Rent in Europe
Conclusion
In conclusion, if you're looking for an unforgettable travel experience, consider spending time in one of Europe's treehouses. They offer a unique and magical way to experience the continent's forests and landscapes. Whether you're looking for a quiet getaway or an exciting adventure, there's a treehouse perfect for you. So what are you waiting for? Start planning your trip today!
This is a guest post by Jugoslav from Treehouse Venture.
Get your Notion Travel Planner Template!
Embark on your next adventure with the Wanderlust Planner – Notion Travel Planner Template – Notion Travel Planner Template for 2023 (chasingwhereabouts.com), the ultimate Notion Travel Planner Template. Organize your wanderlust-fueled dreams and turn them into unforgettable journeys. Whether you're a seasoned globetrotter or a newbie explorer, this template has you covered.